What with this, that and the other, I almost missed this extraordinary pronouncement by the increasingly sinister and megalomaniac HAF of HAFs (Hot Air Fanatics), Dr. James Hansen of the NASA's Goddard Institute for Space Studies. I am much obliged to the ever-excellent Anthony Watts for pointing it out in detail, here.  Hansen has long been the scientific leader of the global warmers' band and is not only the principle adviser to the ludicrous United Nations committee, the IPCC, but also to his eminence, Al Gore.  Need I say more?
Anyway, not content with making frantic prognostications for the End of the World, he has now gone a step further and demanded that amongst others, oil company executives should be "put on trial for high crimes against humanity and nature" because they dare to contradict what he, James Hansen, has decreed is the state of the world.  Well, if he intends to ditch freedom of speech on this subject, and the threat to the oilmen will not be missed by his fellow scientists who also do not agree with him, then the least we can do is check his own credibility by seeing how good his forecasts have turned out.  Happily, the occasion for his Dr. Strangelove-like loss of control is the 20th anniversary of his speech to Congress in which he warned of catastrophic global warming.  Thanks to Anthony Watts and Joe d' Aleo we have a record from the University of Alabama, Huntsville, of the satellite measured global temperature from 1988, the year Dr. Strangelove Hansen harangued Congress on global warming, and today.  Yes, you guessed - it's cooler now than it was then!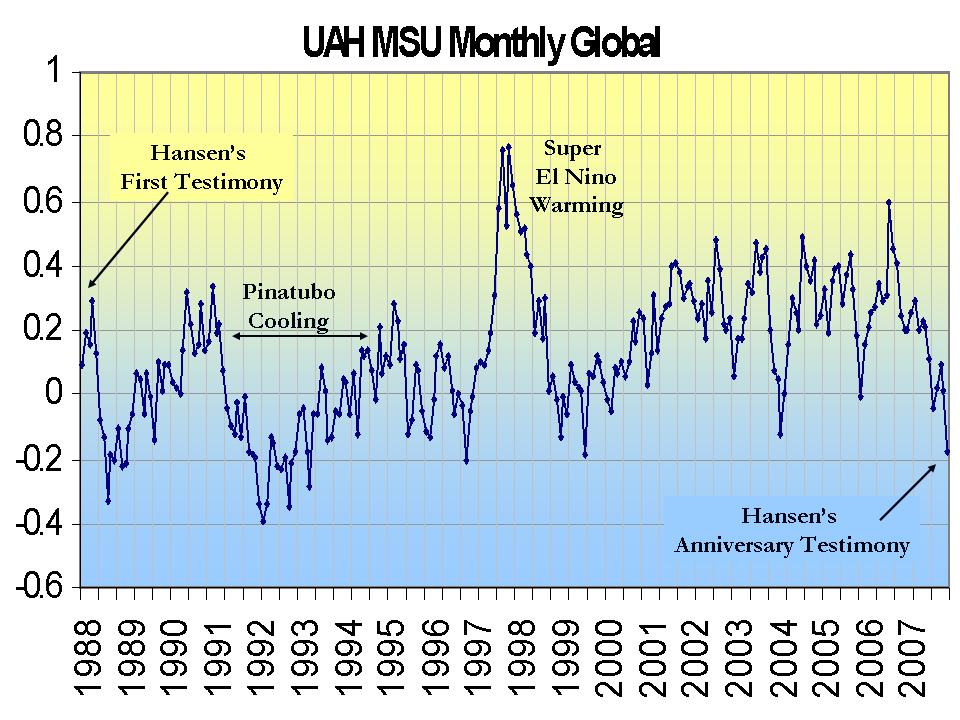 Now the question arises as to whether the authorities should take legal action against Hansen.  I mean, isn't there a law against shouting 'fire' in a crowded theatre?
Additional: No sooner had I finished my remarks above and posted them when I was reminded that some time has passed since I checked Steve McIntyre's site.  The very first thing I read was a typical example of the sort of obfuscation that the HAFs throw up in order to avoid answering any questions on the details of their 'scientific' methods.  This one is close to home - our very own Met Office.  Under the Freedom of Information Act (do stop sniggering, Jenkins!), a Mr. David Holland asked for details of the papers and e-mails produced by the Met Office's Chief Scientist, Dr. Mitchell, who was an adviser to the IPCC (Inter-governmental Panel on Climate Change).  To begin with the Met Office claimed that all of Dr. Mitchell's papers and e-mails had been scrapped, but under further questioning they did a nifty quick-step and proclaimed that, after all, Dr. Mitchell had not been operating on their behalf whilst engaged with the IPCC but had been acting in his personal capacity. Presumably questions along the lines of who paid his salary whilst he was engaged on personal business, who paid his air fares and hotel expenses, and so forth, will follow.  What a shoddy lot these HAFs have become, and would you be happy to pay increasingly large 'green taxes' on their say so?