The HAFs (Hot Air Fanatics) in general, and Dr. James Hansen of GISS (Goddard Institute of Space Studies) in particular, make Laurel and Hardy seem rather bright.  Hansen, of course, is the man who 20 years ago frightened Congress out of its collective wits with dire forecasts as to how incredibly hot the planet would be about now, only for temperatures to fail to get anywhere near what he estimated.  Never one to lose an opportunity to kick a sucker when he's down, here is Hansen's own graph with the actualite in a rather embarrrassing shade of red to match his face, one hopes!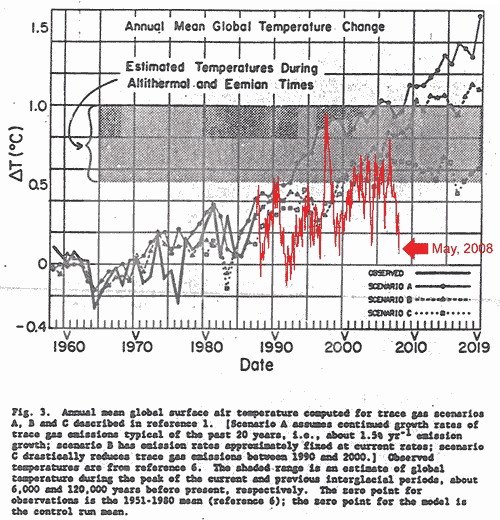 It is important to realise that Hansen is not just a prophet to the likes of 'Little Willy' and all the other eye-ball swivelling fanatics who revere him, but a veritable God of science and scientific method. 'Little Willy', especially, likes to think of himself as a scientist (stop giggling at the back!) so he will be mortified at the sight of his 'glorious leader' taking an enormous prat fall.
GISS, of which Hansen is the boss, issued the October global temperature statistics a few days ago and proudly announced that this October had proved to be the hottest October on record.  Cue 'Shlock-Horror' headlines from the 'stoopids' who write and broadcast in the MSM.  Alas and alack, a few days later some eagle-eyed trouble-maker found out that the October statistics from Russia had been corrupted and someone had simply taken the September figures and carried them forward into October!  As one knowledgeable commenter pointed out, temperatures in Russia can drop by around 12 degrees between those two months, as Hitler and Napoleon discovered to their cost. We await a correction with bated breath.
The last time I wrote about Dr. Hansen I promised it would be the last but, hey, I lied, so what else do you expect from an old second-hand car dealer?  Anyway, please don't tell 'Little Willy', he'll only burst into tears and you'll ruin his Christmas!
Hat tip to Anthony Watts and Steve McIntyre especially for the picture.