These questions, and indeed their answers, are of great importance to the political sophisticates who depend utterly on D&N for their world view.  The problem is how to phrase the first question with the delicacy that my readers expect.  Try this: has 'Vlad the Impaler' crossed the street?  You know, is there 
just a hint of pink about him?  Does he . . . oh, come on, you know what I mean . . . is he just a teensy-weensy bit gay?  Well, I admit his wrist is as straight as an arrow in the picture above  but is that a posey of flowers stuck in his ever-so-macho trousers?
And let's be honest about this, after all, there is nothing to be ashamed of; for a man of his age to regularly pose in the semi-nude whilst flexing his pecs does remind one of the pictures in those rather odd mags one accidentally knocked off the top shelf in the newsagent whilst trying to reach the last copy of Penthouse.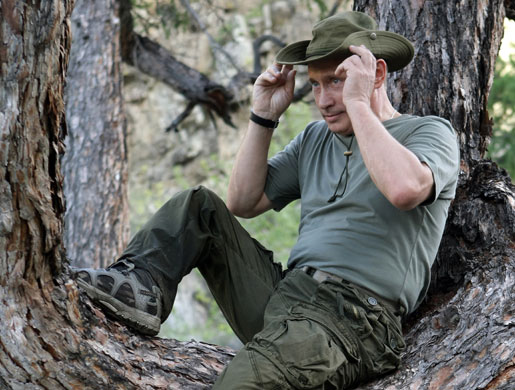 Also, there is the rather queer fetish he has for appearing in military garb trying (too hard, perhaps?) to appear ever so, ever so, manly.
The second question is really two questions in one and the answer is devilish difficult to choose:
Is 'Harry Harperson' thicker than a sack of spanners, or is she just mad?