Before all this internet 'thingie' started I was happy in my ignorance.  I mean, I read the papers and watched the 'telly' and whilst I had just sufficient native wit to suspect that much of it, being the work of hacks with little or no expertise, was either tendentious or innacurate, I knew that to delve any deeper to check the truth would involve hours in a library.  Now I am a man who has raised inertia to an art form.  Frankly, I'm amazed that Tracey Emin hasn't used me in one of her, er, 'art pieces', sitting in an armchair gazing at nothing.  It could win the Turner Prize!  Also, I have often confessed here that I wasted all of my school years by trying, and failing, to be 'Jack the lad'.  However, now, all is changed. I can remain in my armchair and magically all the accumulated knowledge of the world is literally at my finger-tips.  And do you know, I'm still too bloody idle even to check for obvious errors in our less than wonderful media, even though I am dimly aware that somehow, somewhere, they have got a story wrong.
OK!  So now you're feeling smug and superior, because you're bright and energetic, so let me ask you this: Have you heard of the North West Passage?  Well, of course you have.  Everyone has.  It's that bit of ice and sea, mostly ice, up above Canada.  A couple of hundred years ago some daft British officer tried to force the passage and perished with all of his crew, I believe.  But have you heard of the North East Passage? Oh, alright, clever clogs, you may have, but I hadn't up until this morning.  Is there a point to all this I hear you muttering?  Indeed there is.
For the last few weeks I have been reading about a couple of merchant ships which were, unbelievably, forcing their way through this icey passage.  According to the media, this was one of the few benefits of global warming because the arctic ice had melted and finally a way through had been found and huge economic benefits would follow.
All bollocks, of course, which, if I had paid attention to Mr. Needham's geography lessons 55 years ago, I would have known!  The North East Passage, which basically runs along the top of Russia, has been open for shipping in summer months since - 1934!  Amongst other global warming dummies (the BBC, The Independent, etc), The Times swallowed the false implications of this story whole and then followed up by using it as the basis of an advertsing campaign on posters plastered all over the London underground.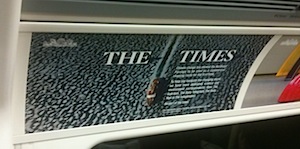 The advertsing copy reads:
To help you navigate the changing world we have more dedicated science and environment correspondents than the Guardian, Daily Telegraph, Daily Mail or Independent.
Alas, I can only think that all those "dedicated science and environment correspondents" followed my example and spent their schooldays arsing about.  The UK Register gently explained:
Only one problem: The Northeast Passage has been opened for commerce since 1934 – and never 'closed'.

Over the years hundreds of thousands of freighters have passed through, and after Russia put Soviet-era politics aside it was extended to foreign commerce in the 1990s.
Anthony Watts, from whom I derived this report of media laziness, suggests that complaints should be made to The Times for its rubbish reporting and its deceitful advertising, and usefully he provides the means to do it:
http://www.timesonline.co.uk/tol/tools_and_services/services/contact_us/
And also the Advertising Standards body
http://www.asa.org.uk/asa/how_to_complain/
Go on, complain, I have!