I have been conscious for some time (despite rumours to the contrary!) that because of my own inherent, gloomy, cynical, pessimism I have been relying exclusively for humour on those very naughty boys at I Hate the Media.  Today, I am pleased to announce that I have stumbled upon another humorous blog called Rising Hegemon.  I'm not too sure yet how many laughs they will provide but their caption photo joke featuring 'My Darling Sarah's' handmaiden, the successful Ms. Christine O'Donnell, who is now famous for her strictures on masturbation, made me chuckle.  It is, of course, in the worst possible taste!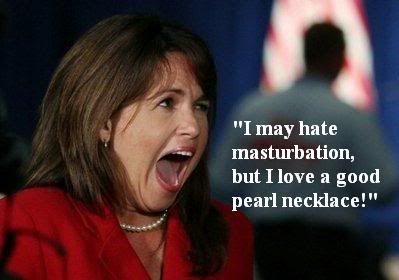 Mind you, when it comes to the great masturbation debate those rapscallions at IHTM haven't lost their touch, or their grip, as is demonstrated by this piece having a pop at Rachel Maddow, an uber-liberal TV chatterbox, who was in turn having a pop at Christine O'Donnell.  This, I believe, takes the prize for the most double-entendres per line:
This time she's decided to finger Christine O'Donell for being, of all things, masturbation intolerant.
Here's the rub. Far be it from us to condemn people for getting in touch with themselves. A little introspection can be a good thing. And if by the end of all that waxing philosophic you come to the conclusion that you want to exercise a little more self control, well, that can be a good thing, too. But be warned, beating masturbation might not be as easy as you think.
Our suggestion for getting your hands around the problem and pounding it into submission? Try watching MSNBC on any weeknight between the hours of 9 and 10 pm Eastern. We guarantee that all sexual desire will vanish. It's far more effective than a cold shower.
As I say, all in the worst possible taste and it is an indication of how far standards have fallen 'over there' since they made the fatal mistake of breaking away from The Great King Over The Sea!