Forgive this short explanatory paragraph written for the benefit of my foreign readers who may not have experienced the pleasures of Strictly Come Dancing. A few years ago some genius - and I do mean genius! - in light entertainment thought that a TV programme featuring celebrities who could not dance partnered with professional dancers and judged by a quartet of professional experts in a week-by-week knock-out competition might go down rather well with a Saturday night audience.  Well, as I say, he or she was indeed a genius and the programme has gone from strength to strength.  In recent times they have widened the choice of celebrities from the young and beautiful to the elderly and heavyweight, like Anne Widdicombe, ex-Member of Parliament and stalwart of the Conservative party: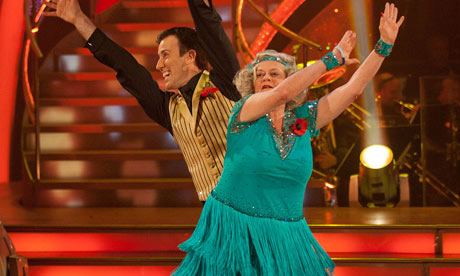 Needless to say, this country of ours having totally lost its sense of humour, it was not long before the po-faces came out of the woodwork and sneered at this harmless bit of entertainment.  These people fail to see or take account of the sheer hardwork and effort needed by the celebs to master week after a week a series of different modern dances and then perform them before a national audience.  I grant you that dancing is a minor accomplishment (even so I have never mastered it as the 'Memsahib' will testify with a wince) but it does take considerable effort and dedication and it is obvious that all the contestants are taking it very seriously and trying like mad to do well.
As I may, ahem, have mentioned before, I am myself something of a very amateur theatrical performer.  Acting is tricky, more tricky than most people who have never acted realise, and if you truly attempt to raise your performance to new personal heights it demands great concentration and hardwork - 90% perspiration and only 10% inspiration!  However, if you are lucky enough to be performing in one of the classics, say, a Shakespeare, you can at least rely on the most scintillating English ever written.  But my real admiration goes to the boys and girls of musical theatre.  To sing and dance as well as act, that is the pinnacle of theatre, that is the real test.
Not that our contestents are doing that exactly, but for an absolute beginner to go in front of the cameras and an audience of millions and execute a complex dance routine is an immense challenge and my admiration for them is boundless - and that includes the good, the bad and the total trainwrecks - mentioning no names!  I should also pause to salute the pros who have to choreograph the pieces, and are then given a week, or part of a week because their celebs are often busy elsewhere, in which to teach the routine to their helpless, hopeless, hapless partners.
Strictly demands real skill and effort from the contestants and the competition between them all for a chance to perform again the following week adds edge to the proceedings.  However, above and beyond all else it is an entertaining, light-hearted, amusing way to spend an hour - and in this day and age, who could ask for anything more?