I'm sure I may have mentioned that I once played Falstaff in Henry IV Part II - oh, I have! - several times, you reckon! - well then you won't mind hearing it again, will you? - I once played Falstaff!  It is one the very greatest roles in all of theatre and by and large I thought I made a pretty good fist of it.  This is a picture of me with Michael Green playing the part of the very red-nosed Bardolph.  Michael is one of the funniest men I have ever met; he wrote The Art Of Coarse Acting which literally made me cry with laughter.  Fortunately this was long before I ever worked with him so I don't think he had me in mind when he wrote it!  Anyway, rather smugly, that is, the sort of smugness only semi-talented amateurs can possess, I thought I was pretty damn good in the role.
But then I saw Roger Allam play the part at The Globe.  That was humiliating enough as he demonstrated, with what appeared to be effortless ease, the way to fill every nook and crevice of that gigantic character but then, masochist that I am, I went to see the film of the production in which the merciless camera closes in and permits no laxity or laziness.  Again, Roger Allam was faultless.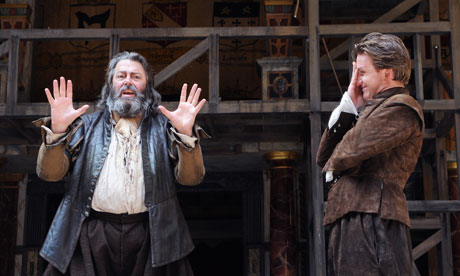 Picture, courtesy of The Guardian, shows Allam in action with Jamie Parker, an equally superb Prince Hal. 
I would describe Roger Allam as 'a jobbing actor' and I would use that expression as being the very highest of praise.  He has played an enormous variety of roles on stage and small screen but you would pass him in the street and not recognise him.  Like the very greatest actors (and spies), he seems to sink into the character of whatever role he is playing so that the real man becomes invisible.  I'm not saying it's a pleasure to be humiliated by such an actor, but his hard-worked excellence and talent does take some of the sting out of it.
There is no reference to it yet but I cannot believe that The Globe is not going to issue a DVD version of the film so if and when they do - buy it - and that's an order!