One would not wish to be hammered by Charles Krauthammer, a man of fearsome appearance - the photo flatters to deceive - and ferocious political intellect.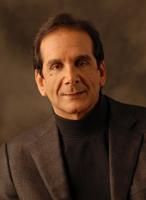 Alas, poor 'Barry' because, according to 'The Kraut', he is, in the immortal words of Pte. Frazer, "doomed"!  No longer the new kid on the block promising 'hope 'n' change' but now an old lag with a record, and a dismal, not say disasterous, one at that.  'The Kraut' points to the absolutely crucial independent vote where Obama is scoring a miserable 31% support in the polls.  Roughly translated that means a landslide which will bury poor 'Barry'.  You may read - and view - 'The Kraut' at his sinister best at Real Clear Politics.
All of which brings me to the mystery of 'The Woman Who Isn't There'!  If 'The Kraut' can read those figures so can 'HillBilly' Clinton and yet still she holds off - dare I say Palin-like?  Grant Dahl at CNSNews provides a clue.  According to his story:
former President Clinton adviser and campaign manager Dick Morris stated that, after speaking with a Democratic strategist, he thinks it is "very possible" that President Obama might acquiesce to requests from the Democratic leadership in Congress and bow out of the 2012 race, leaving the door open for him to return sometime in the future.
That, of course, would allow 'HillBilly' to enter stage Left like Lady Mcbeth but without the dagger and all that messy blood!  Where would the independents go then?
Couldn't resist this poster put up by a resident of New Orleans showing POTUS with a 'poo-poo' in his nappy - how rude!  Via IHTM - where-else?
(I'm off to Salisbury to meet 'SoD' and his delightful bouncing Czech for lunch and a matinee performance of Alan Ayckbourn's play 'Way Upstream' which features a real river and boat on stage.  Must remember to take my 'wellies'!  Back this evening.)