Now, I want you to take a long, hard look at this painting.  No, no, not a quick glance, really study it, put your sun-glasses on if you have to.  It is by a man called Clyfford Still (1904-1980) and it is worth $30m - not, of course, that such a fact would alter your high-minded appraisal of this creation.  If you are somewhat unclear as to what it represents the artist has helpfully entitled it "1957-J no.2".  Right, off you go and in due course let me have your analyses but, please, n0 more than ten paragraphs!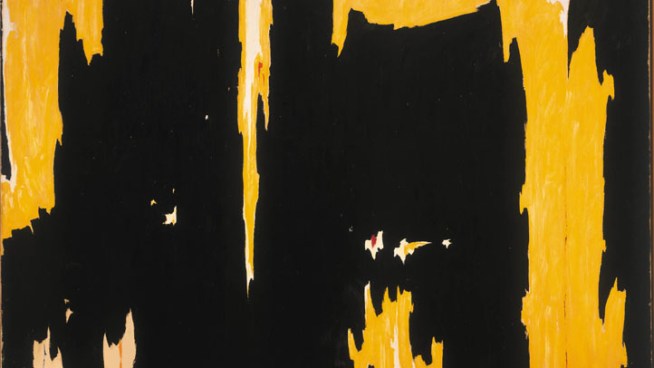 Well, there you are then, what do you think?  Of course, you may not feel up to writing too much of a critique this being the Sunday morning after the Saturday night, as it were.  In which case you might care to emulate that well-known art critic, Ms. Carmen Tisch, 36, who, according to NBC Southern California, when she saw it in the Clyfford Still Museum in Denver, she:
dropped her pants at a museum and rubbed her rear end all over it
Lest the finer, more sophisticated point of her critique be misunderstood, she:
tried to urinate on it but apparently missed.
Well, I suppose a butt wipe and a pee saved us all from ploughing through a 1,000 words of turgid art criticism but somehow I can't see this new, direct-action style of reviewing works of art catching on at the Royal Acadamy!
As so often I am obliged to those reprehensible subversives at I Hate The Media.