It is almost possible to suggest that none of Paul Klee's paintings were ever 'the finished article'.  All the way through his painting life his works demonstrate a continuing search on his part for just the right balance between line and shape and colour and composition.  Here is a mysterious beauty which I have hanging on my wall - but alas, not the original!  (The blue markings in the bottom corner are, I think, a security device by the poster company to stop reproductions)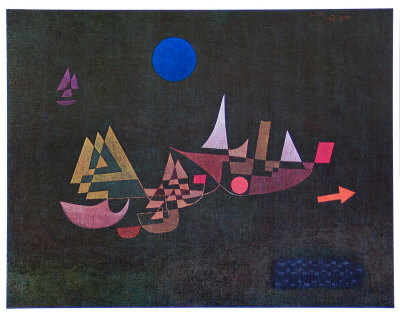 And next we have another of those Anglo-American society beauties who John Singer Sargent painted not only so well but so shrewdly because he must have earned a fortune from it!  This is Mrs. Waldorf Astor (Nancy Langhorne) - ain't she gorgeous? And look at the way Sargent has painted that dress.  I could look at her for ever.
Finally, here are some from Ben Shahn who was a terrible old Leftie but a very fine illustrator.  The first seems to be a record cover using one of his famous paintings called 'Handball' and the origianl work is below it:
And the last one has been a favourite of mine for years.  It's called 'Liberation' and neatly and joyously shows the paradox of Europe after the war with the irrepressible playfulness of children amongst the wreckage that was reality.
Right, that's enough culture for today - now get on with your work!