I give you - Dame/Lady* Margaret Hodge MP of 'Money Mountain Inc.' . . . no, don't run away . . . she's all yours . . . honestly, no charge, completely free . . . just, er, well, take her away, will you, so that I never have to see her smug, pancaked face on my telly ever again.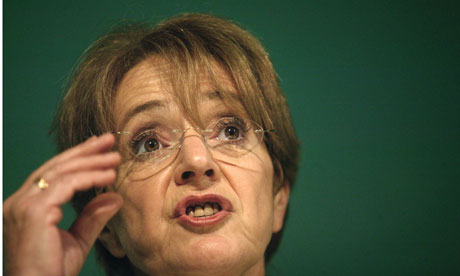 No sooner had I made up my mind never to vote for 'Dave' again when this prime example of a socialist, millionairess hypocrite appears in my sitting-room inveighing against people who quite properly and legally - and sensibly in my view - do their best to avoid paying tax to a government which they know will waste at least 50% of it.  If this is the face of an alternative government then perhaps, after a glass or three of Scotland's finest 'water', perhaps, maybe, 'Dave' isn't quite so bad after all.
As usual, I am much obliged to Guido who has kept 'Hodge the Dodge' firmly in his sights ever since this wretched hypocrite cruised the media studios following her starring performance at the Public Accounts Committee hearing on tax avoidance. He reminds us - and her but never gets an answer - that she has taken very good advice from her tax advisors and placed most of her huge fortune in trust for the sole purpose of avoiding tax.  In fact, perhaps she took her own advice because in her earlier life she was a senior consultant at Price Waterhouse!
Then, of course, there is her history with regards to parliamentary expenses, as spelled out by a site named in her (dis)honour:
Margaret Hodge MP – the richest woman in Parliament with a £50 million personal fortune makes YOU pay for her organic coffee and biscuits, and even a 25p carrier bag.
Here is just one of the huge wodge of receipts used by Hodge to claim a small fortune from taxpayers every year in Parliament. She gobbled up £133,255 in expenses in they year 2007-2008 alone.
She's a multi-millionaire with massive business interests but she has no shame in claiming from the tax payer for her bills.  Some expenses  (like office stationery) are fair enough but why should you pay for garden plants? Hodge claimed for invoices form Homebase on 8 November 2005. You paid for her Pansies, Lavender and Tyme.  It's not a sweet smell – in fact it stinks!
If anyone can think of a single good reason why this woman should not be placed in the stocks and pelted with rotten veg, I would like to hear it.
(*) There is some dispute amongst Guido's commenters as to whether she is a 'Lady' or a 'Dame' - but none as to the self-evident fact that she's a mega-rich, tax-dodging, hypocritical, old cow!