Actually, if you are American then the chances are you will not have read or seen anything of this topic because the American media have almost to a man - and woman - done their very best to stick their heads in the sand and their fingers in their ears whilst shouting loudly "nah-nah-nah-nah-nah-nah!"  I am talking of a murder trial and, it goes without saying, that if the accused were gun-owners shooting college kids or white racists shooting blacks then American newspapers and TV screens would be filled with it all for days, weeks and months.  But this case which involves the specific murder of eight people but could involve hundreds is totally ignored and to prove it, here is a picture of the courtroom concerned with all the seats reserved for the MSM (non-)reporters which have remained resolutely empty!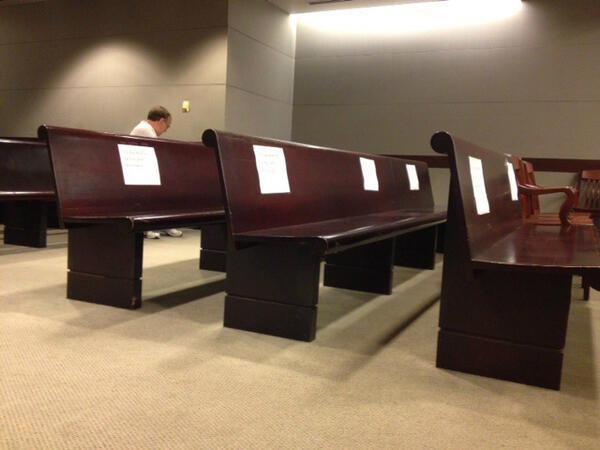 You see, this case concerns Dr. Kermit Gosnell who has, prior to his arrest, gone off to work each morning in order to kill babies because, you see, he's an abortionist.  One can imagine his wife greeting him each evening with something like,'How was your day today, dear?' and him replying, 'Oh, you know, Honey, same ol' cut 'n' stab, cut 'n' stab' or some such.  Of course, he is not the only one up on charges connected to his practice of aborting late period babies, so are his former staff - and his wife, actually - and they are ratting him out big time!  And so we are getting all the gory details which, of course, will come as a huge shock to the pro-abortion lobby (if their stooges in the press ever get around to reporting it) because they never allow their delicate minds to actually dwell on the details of what is required to kill a late term baby.
At this point, if you are of a delicate nature, read no further!
Jill Stanek at News Busters offers this summary:
In Gosnell's clinic police found severed baby feet of various sizes kept in
see-through containers and bodies of babies in a freezer and in the basement.
The upper spinal cords of some of the babies had been severed. This is a montage
of photos from the grand jury report.
The top-left photo is of particular interest because it shows the end result of the favoured means of despatching a baby after birth by severing the spinal cord between the brain and the body.  According to the report of court testemony by LifeNews:
A second Delaware woman who worked at Dr. Kermit Gosnell's abortion clinic
testified today that it was "standard procedure" to snip the necks of any babies
that were delivered by patients before the abortion procedure due to
labor-inducing drugs.
And Lynda Williams, 44, of Wilmington, said Gosnell taught her how to flip
the body of the baby over and snip its neck with a pair of scissors and recalled
one time when she followed these orders and saw the child move.
"It jumped, the arm," she said, showing the jury by raising her arm.
And you really couldn't make this up, the irony is simply too rich, just guess what her defence was?
"I only do what I'm told to do … what I was told to do was snip their neck."
In other words, I was just obeying orders - now where have I heard that before?  Needless to say, the authorities charged with supervising abortion factories (I use the word with deliberation) never set foot in the charnel-house in seventeen years despite receiving numerous complaints!  If and when Gosnell and his cohorts are sentenced perhaps the police could take a look at the bureaucrats - yeah, yeah, I know, fat chance!
Jill Stanek points a derisory finger at the ever-sensitive President of the United States who wept, yes, wept, I tell you, at the deaths of all those young students at Sandy Hook but, she wonders, as a pro-abortion politician how many tears would he have shed if they had all been 'snipped' immediately after their births?!