The 78th Health Warning - this month!  Good morning, or, good afternoon if you happen to have been lying in this morning which, I should warn you can be very bad for your health.  I am the spokesman from the MFAHWO.  This is a very (self) important organisation whose full title is the Mother and Father of All Health Warning Organisations.  Naturally, I am a Doctor, because all Health Warning Organisations are fronted by a Doctor because it gives them an air of authority, er, despite the fact that these days the Great British Public has slowly realised that most doctors are total prats who would have difficulty sticking a plaster on a cut finger - which is why they have nurses!  Now pay attention because I have a very serious warning to issue to you all - do NOT, under any circumstances, get out of bed!  Getting out of bed is highly dangerous.  You see, the minute you get out of bed you risk meeting the 77 other dangers that my esteemed colleagues have already warned you about this month.  So my stern advice to you all is to stay exactly where you are.  Another colleague will be along shortly to warn you of the dangers of bed sores.  Thank you!
Was Obama photo-shopped?  Honestly, these Americans!  Is nothing and no-one sacred?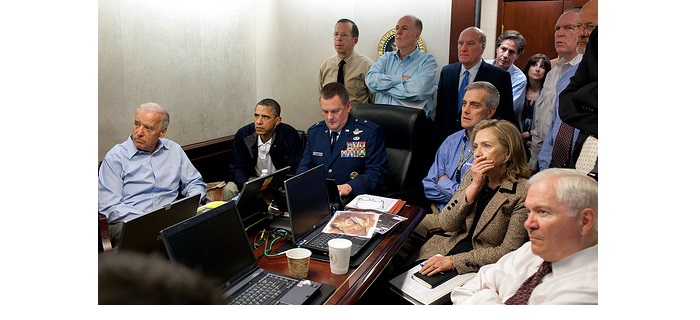 This is the photo reluctantly released after the event in which Obama is 'seen' with his high-powered command team, er, well not counting 'Bozo' Biden, of course, watching intently as the American SEAL team assassinated Osama bin Laden.  But now we learn from a man who was there that for most of the time Obama was downstairs playing cards.  Now some rascal is suggesting that this photo was rigged by 'photoshopping' techniques and points to the size of Obama's head compared to the people next to him.  I'm shocked, I tell you, shocked!         Thanks to IHTM 
ADDITIONAL:   And thanks to my e-pal Dom (see Comments), this from Mr. John Ekdahl who is 'a very, very naughty boy'!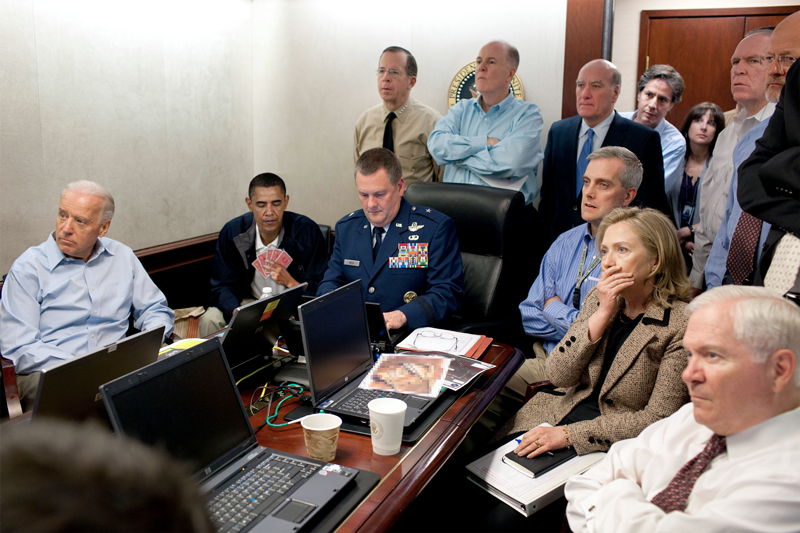 Not sure if he was a saint but he was highly perceptive:  If I was capable of being embarrassed I would be embarrassed by my total ignorance of a man generally reckoned to be 'A Great Man of Letters', the late G. K. Chesterton.  Alas, until this morning I had never read a word the man had written.  However, I have been reading about him in the prints because it has been suggested that the Pope might put him up for canonisation.  By coincidence, or perhaps not, the anonymous owner of the blog In Pursuit of  Copiousness - well worth bookmarking! - has just published an extract from his copious writings.  It is as dry as one of my martinis and as elegant as Audrey Hepburn (the rider 'than which etc, etc' applies to both).  I reproduce it below and my search for more of his writings begins: 
"We make our friends; we make our enemies; but God makes our next-door
neighbor. Hence he comes to us clad in all the careless terrors of nature; he is
as strange as the stars, as reckless and indifferent as the rain. He is Man, the
most terrible of the beasts. That is why the old religions and the old
scriptural language showed so sharp a wisdom when they spoke, not of one duty
towards humanity, but of one's duty towards one's neighbor. The duty towards
humanity may often take the form of some choice which is personal or even
pleasurable. That duty may be a hobby; it may even be a dissipation. We may work in the East End because we are particularly fitted to work in the East End, or because we think we are; we may fight for the cause of international peace
because we are very fond of fighting. The most monstrous martyrdom, the most
repulsive experience, may be the result of choice or a kind of taste. We may be
so made as to be particularly fond of lunatics or specially interested in
leprosy. We may love negroes because they are black or German Socialists because they are pedantic. But we have to love our neighbor because he is there – a much more alarming reason for a much more serious operation." 
From Heretics. 
Just to cheer you up:  I thought you would like to know that those nasty men who lend 'Dave 'n' George loadsa dosh' have raised their rates yet again.  As of this weekend it is up to 2.7% compared to early May when it was only 1.6% - that is an increase of nearly 69% on what our government borrows.  And, of course, the amount our government borrows is also increasing.  Of course, by the term 'our government', I mean you!  Austerity?  You  ain't seen nuttin' yet!
Diana murdered by member of the armed forces:  Well, that's the headline.  Anyone would think it was August and that we were bored rigid by stories of sundry Worthy Oriental Gentlemen slaughtering each other.  Anyway, according to the 'Red Tops', the 'Wooden Tops' are investigating.  I suggest they ignore those highly-trained killers in the SAS and instead concentrate on those no less lethal operators in the ACC, er, that's the Army Catering Corps, in case you didn't know.  I can tell you from experience that those bastards nearly did for me more than once!
Time for a podium kiss:  I can still remember the incident at the '68 Olympic games when two black Americans gave a so-called 'black power' salute whilst standing on the podium.  Given that 'Vlad the Impaler' has signed a law banning any encouragement of homosexual activity surely it is time for three chaps to indulge in a great big snog in the forthcoming Russian Olympics.  Better still, perhaps the entire three teams who win the ice-hockey can enjoy a mini-orgy whilst collecting their medals.  Such fun!
What is the Spanish for 'humbuggery'?  Policians -heh! - they're the same the whole world over.  Spain is an economic train crash and so their politicians instantly kick off on a campaign against Gibralter which provides what they dismally fail to provide, that is, jobs for Spaniards.  Thousands of Spaniards living in the south are now finding their ability to cross the frontier is blocked by their own government.  Meanwhile, just over the water on the Moroccan side of the Med lie the two Spanish enclaves of Ceuta and Melilla, the mainly Spanish inhabitants of which resolutely refuse to allow themselves to be absorbed back into Morocco with the full backing of the Spanish government.  I like the Spanish and I really don't know what they have done to deserve such putrid politicians. 
No more rumbles today