Yes, I am delighted to be able to tell you, courtesy of The Graun and Guido, that the new old leader of the Labour party is, of course . . .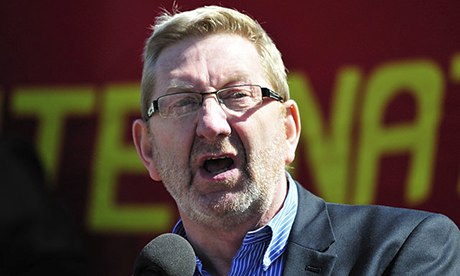 . . . the £150k a year Len McCkuskey!  So no change there, then!  Sorry?  What did you say?  You thought it was Ed 'Milipede'?  What a silly person you are!  'Our Len' punts several grand a year into about a third of the political offices of Labour MPs, and he and his 'bruvvers' have 50% of the vote at any Labour party conference.  Flabby-lipped Ed opened his mouth and let his belly rumble when he insisted that suckers members of unions would have to opt in to any political levy paid to the Labour party.  That would have endangered Len's 50% block vote over all Labour policies so it has just gone the way of the poor old snowball in hell.
If the Tories have any brains they will plaster their electoral posters with pictures of 'our Len', who is without doubt the ugliest man in British politics, and ask the voters if they want this man running the country?  'Dim Dave' and his clueless Tories would never think of it but that rottweiler Aussie they have employed to do their thinking for them is more than capable of sinking his teeth into 'our Len's' ankle and dragging him into the limelight!