Shockin', shockin'!   Poor George Galloway, attacked in the street by some demented oaf who appears to have taken umbrage at George's virulent anti-Israel remarks.  Poor George's jaw was broken and I'm shocked, I tell you, shocked . . . er, but, of course, that means poor George will not be able to speak for some time.  Ah well, it's an ill-wind that doesn't, so to speak, blow someone's hat into the river and give us all a laugh!
There's usually more to a story than the headlines:   Which is why I have delayed in remarking on the case little Ashya King (5) who was taken from a British hospital by his parents who drove him to Spain where they have connections.  Ashya suffers with a brain tumour and because the parents are Jehovah Witnesses original reports hinted darkly that the parents were refusing medical treatment for their son.  Actually, JWs only object to blood transfusions.  Now it transpires that what the parents wanted was a particular ray treatment that is unavailable under our NHS - "the envy of the world"!  The parents believed that the treatment insisted on by the NHS medics would cause severe collateral damage where-as the ray treatment would not.  The father objected and apparently gained the distinct impression that if he complained again the authorities would seek a protection order which would ban the parents from the hospital.  He did a runner taking his wife and son with him and made for Marbella in Spain where he owns property and the boy is now in a Spanish hospital.  He and his wife are under arrest at the behest of the British police.  There are all sorts of stereotypes who might (or might not) fit into this story - religious fanatics denying science, bumptious 'I know best what's best for you' doctors so don't argue with me, 'Nurse Ratchett'-type hospital administrators . . . and so on.  It's too early to say for sure but whatever, I do wish little Fashya all the very best.
Would you buy a used Nobel Peace Prize from this man?  
Al Gore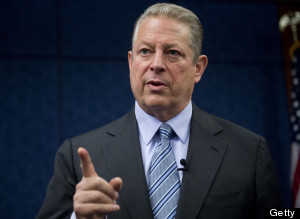 A polar bear
His 'prophetic' words according to today's Daily Mail:
'The North Polar ice cap is falling off a cliff. It could be completely gone in summer in as little as seven years. Seven years from now.'
They were actually spoken seven years ago when he picked up his totally undeserved Nobel Peace Prize.  So then, Al baby, how did your prophesy work out? 
The most widely used measurements of Arctic ice extent are the daily satellite readings issued by the US National Snow and Ice Data Center, which is co-funded by Nasa. These reveal that – while the long-term trend still shows a decline – last Monday, August 25, the area of the Arctic Ocean with at least 15 per cent ice cover was 5.62 million square kilometres. 
This was the highest level recorded on that date since 2006 (see graph, right), and represents an increase of 1.71 million square kilometres over the past two years – an impressive 43 per cent. 
Other figures from the Danish Meteorological Institute suggest that the growth has been even more dramatic. Using a different measure, the area with at least 30 per cent ice cover, these reveal a 63 per cent rise – from 2.7 million to 4.4 million square kilometres.
So, not too good then, Al Baby, better stick to all your investments in windmills and solar panels which, with the help of big fat Federal and State subsidies, makes you the 'gazillionaire' you are today.  Er, but don't ring us, we'll ring you!
Carswell puts me in a 'shilly-shally' mode:   Or perhaps a 'shall I, shan't I?' mode is a better description.  What I mean is that Douglas Carswell's defection from the Tories to UKIP has, like "a hanging in the morning", 'concentrated my mind wonderfully'!  I am now certain that Carswell believes on the evidence of his experience with those in and around the Tory leadership that whatever Cameron does or does not achieve in his 'negotiations' with the EU, he will never lead a campaign to get us out.  That is something I have suspected for some time but because I trust Carswell's judgment I now know it.  Thus, my previous decision to vote UKIP for the European elections and Tory for the general election is now under review!  I will expand on what passes for my reasoning in a full post next week.
"The banality of evil":   That phrase, first conjured by Hannah Arendt, has always struck me as being deadly accurate although, on looking up 'banal' in my OED it says "so lacking in originality as to be obvious and boring".  Well, most evil is exactly that but there are some examples which are the exact opposite.
The story of this young man is told by Spiegel and incorporates both the banality and the mouth-dropping incredularity of evil.  Warning: it will likely ruin your day!
"Ten Little Niggers" in 'Yerdie-durble':   Damn!  BBC4 let me down last night.  About the only TV viewing I look forward to are the foreign murder series shown on BBC4 on Saturday nights.  After a long, tedious Summer, they kicked off their Autumn schedule last night with 'Crimes of Fashion' set in 1950s Sweden on a remote and inaccessible island.  A collection of friends, lovers and aquaintances have gathered and one by one they get bumped off.  Obviously loosely based on Agatha Christie's classic which recently had to be renamed "Ten Little Indians" and was then changed yet again to "And Then There Were None".  Alas, with so many different characters and not being able to read the sub-titles at speed I soon lost the plot, or, to be precise, I couldn't work out who was who.  After watching them all for an hour I decided I didn't much care who they were.  Big Fail, my 'Yerdie-durble' friends - and BBC4 - must do better!
No more rumbles