Semper Fi, or, Semper Fidelis, is, of course, the motto of that splendid body of men, er, and women now, the US Marine Corps.  With exemplary courage they have faced down fierce opponents around the globe in the course of their magnificent history.  But, alas and alack, this is one enemy they were unable to defeat: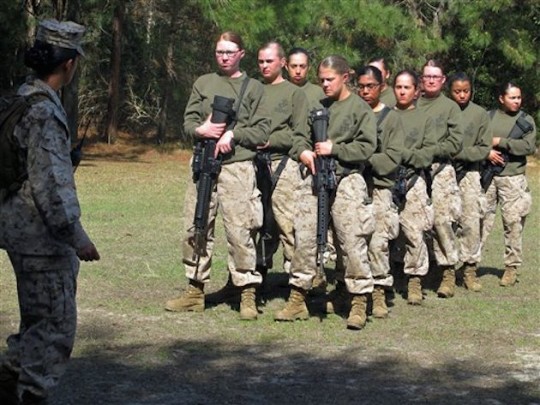 Yes, "the monstrous regiment of women!"  Not a pretty sight, is it?  But the US Marine Corps was stabbed in the back by their paltry politicians and their gutless generals who gave way to political correctness and permitted women to join their ranks.
At this point let me make one thing absolutely clear.  There is, I guess, very little difference in the courage of men and women when in extremis.  You need only read a little of the history of SOE during WWII to confirm that women are often the 'bravest of the brave'.
But that's not what  infantry soldiering is about!  It's about putting enormous amounts of rations, water, clothing, ammo and weaponry on your back and carrying it over very rough terrain for hour after hour after hour - and then, when you arrive, going straight into battle. 
So the following from freebeacon.com will come as no surprise, except to the 'stoopids' in the PC brigade and their gutless dupes:
Two female Marine officers who volunteered to attempt the Corps' challenging Infantry Officer Course did not proceed beyond the first day of the course, a Marine Corps spokesperson confirms to the Free Beacon. The two were the only female officers attempting the course in the current cycle, which began Thursday in Quantico, Virginia.
With the two most recent drops, there have been 29 attempts by female officers to pass the course since women have been allowed to volunteer, with none making it to graduation. (At least one woman has attempted the course more than once.) Only three female officers have made it beyond the initial day of training, a grueling evaluation known as the Combat Endurance Test, or CET. Male officers also regularly fail to pass the CET, and the overall course has a substantial attrition rate for males.
The 'hairies' must be rolling about in helpless laughter in their Yemeni training camps!