One of our Aussies is missing!   Well, he was up until yesterday, anyway.  I refer, of course to the estimable 'AussieD' who has graced these columns with distinction for absolute yonks.  However, foolish but brave, 'AussieD' undertook a holiday trip to this 'septic Isle' - and he then went on the missing list.  A search was instigated around the seamier parts of Soho but no trace was found bar a few empty cans of Fosters.  Yesterday, I managed to contact him and a misunderstanding was sorted out.  I assumed he was on a quick tourist trip of the type usually arranged for visiting Aussies - you know, three days in Soho then a day in Stratford to say they've been there and back to Soho again.  But not so, apparently he is on 'le Grande Tour' covering not only Britain but also the continent.  He promises me that he will return to these distinguished columns as soon as he gets back to 'Oz'.
All the boring-snoring news not worth printing:  You can tell it's Summertime when you sense that the dandruff-ridden hacks of Fleet Street are prepared to print any old garbage just so long as it fills a few pages. Thus, we've had The Sun ("We love it!") showing us an old 1933 home-made movie film of various royals, including Her Maj, aged about 7 at the time, larking about on a lawn and practicing the latest rage of the time - Nazi salutes.  Her uncle Edward is in the group and we all know that he was an admirer of Hitler and maintained his admiration up to at least as far as the war and perhaps even further.  None of this impinges on the reputation of Her Maj and her immediate family who, if I may remind you, chose to remain in London throughout the blitz.  I really do 'love the Sun' even if I never read it but this non-story smacks of desperation.
Whatever happened to "peak oil"?   I remember years ago that when I first ventured into the wilder Leftist fringes of Blogdom all the 'Greenies' were shrieking about 'peak oil', that is, the notion that due to the greed of human consumption soon oil would run out.  My opinion that one should never disregard human ingenuity and that solutions would appear both in techniques for making oil/gas go further and also in finding new sources for it.  Needless to say, I was pelted with rubbish and told that I knew nothing.  This week, the Rigzone site had an article on the 'Utica' shale site which spans West Virginia, Kentucky, Pennsylvania, Ohio and New York - but it's still not the biggest site in the USA.  Hitherto, the US Geological Society estimated the 'Utica' field had a potential of 38 trillion cubic feet of gas and 950 million barrels of oil.  That was three years ago but today the figures have been revised upwards by West Virginia University to 782 trillion cubic feet of gas and 1.9 billion barrels of oil.  The Iranians (and Saudis and Russians) had better get selling their oil/gas as fast as they can because it's only a matter of time before the price drops like a stone.  God bless America!  (Hat tip to IHTM)
Take cover!   A quite terrifying sight on my TV today, in between the non-stop bloody 'tippy-tappy-putt-putt' as all those idiots up in Scotland play hockey-at-the halt through a veritable tempest of rain and wind, as 'Dim Dave' purses his little lips and goes all macho and militaristic on American TV telling the 'cousins' that we are side by side with them and share their determination to utterly destroy IS.  Not content with frightening the pants off me with that, the BBC then marched on Gen. Richards, former 'Chief of Tits' and a man who provided no answers to our military humiliations in Iraq or Afghanistan but who now stands directly behind Dave prodding him in the arse with a bayonet and urging him to 'crack on'!  Apart from having our bedraggled name on the flag, so to speak, the Americans have absolutely no use for us and our titchy, pathetic air force so we should just cheer them on from the side-lines but keep well out of it.  It can only be a matter of time before the 'Hairies' get hold of some AA missiles and you can bet that it will be a Brit plane which is hit first and we will be forced to watch the captured pilot having his head chopped off!  Dave is a tit, too!
Julie Birchill thrashes around in her anguish:   I am second to none in my admiration of Julie Birchill, the polemicist.  Equally, I am derisive of Julie Birchill, the grieving mother who moans and groans about the adversities of life and how she should have done more to support her drug-obsessed son who hung himself recently.  She lists various things she might have done as well as measures that should be taken by the government to assist drug-addicts and the mentally ill.  She misses entirely, of course, the one single thing she could have done which was to be a dull, boring, proper wife and mother instead of the rip-roaring, drug-taking, lesbian-loving, multi-husbanded tearaway that she was.  That way, her son might have glimpsed a completely different, safer, saner world.
Two brains Krugman:   Well, actually he might well have more than just two brains, I mean, what with him being a Nobel prize winner in economics and all that.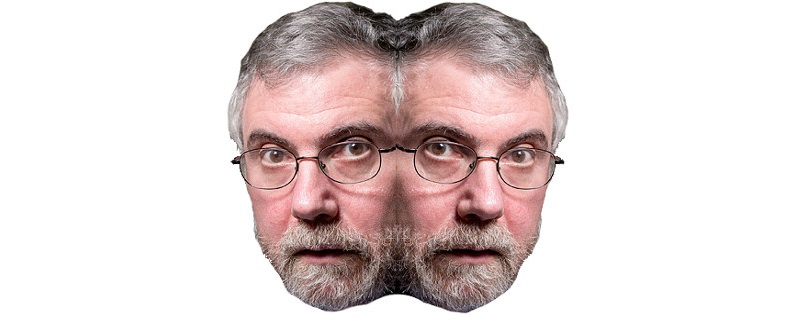 Anyway, he's brainy enough to back both ends against the middle:
1998: "So what are the effects of increasing minimum wages?  Any Econ 101 student can tell you the answer: The higher wage reduces the quantity of labor demanded, and hence leads to unemployment."  
2015: "There's just no evidence that raising the minimum wage costs jobs…"
Yeah, well, er, thanks for that, Professor, I think . . .
Hat tip to IHTM
  No more rumbles today