I woke up in the middle of the night with a coughing fit and unable to get back to sleep I switched the radio on - in the middle of Mr. President's State of the Union speech.  My God, that man is a tedious speaker!  He appears to be incapable of delivering an entire sentence on one breath and instead breaks it down to an eye-stabbing bore-a-thon of clause (pause) clause (pause) clause (pause).  Happily it had the unintended effect of sending me off to the land of nod in time at all.
It also doesn't help listening to it in the full knowledge that almost all of it is A1 BS.  Via Drudge, a very useful site called Grabien has listed 140 unfulfilled promises made by 'Ol Big Ears' over the last eight years.  Here are just a few of them:
Curing cancer (promised 2009, 2010, 2015)

Freezing government spending for three years (2010) and five years (2011)

Colonizing outer space (2015)

Going "line by line" through the budget, eliminating needless programs (2009, 2010)

Inventing "material thinner than paper but stronger than steel" (2014)

Passing health reform that will let Americans keep their insurance (2010)

Converting sunlight into liquid fuel (2015)

Passing comprehensive immigration reform (2010, 2011, 2012, 2013, 2014)

Closing Gitmo (2009, 2010, 2011, 2012, 2013, 2014, 2015)

Ending the Israeli-Palestinian conflict (2014)

Passing a law that will prevent mass shootings (2014)

Keeping earlier promises he's already made (2013)
One of Grabien's commenters offers this revelation: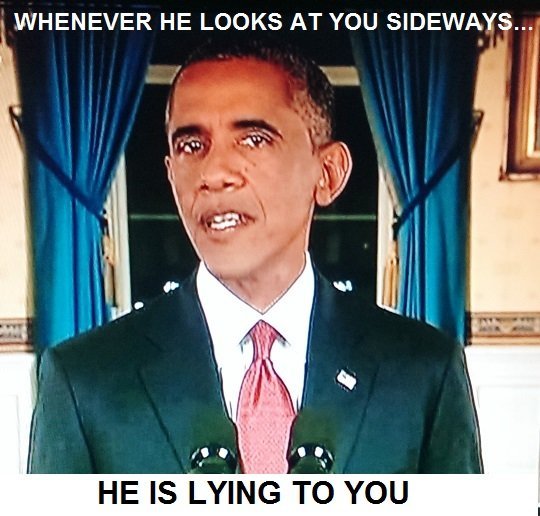 Another commenter disagrees saying that he only lies to you when he opens his mouth!  They can be awfully rude, those Americans!