There's always a silver lining to every dark cloud.  Thus, the fact that I constantly dissolve into monumental coughing and sneezing fits means that today my occasional Sunday thoughts will be, for a change, brief and to the point!
More Met Office lies:   The indefatigable  Christopher Booker points to yet more dishonest agitprop from the utterly useless Met Office.  December was not the wettest December on record - as Met Office records show!  Why are we forced to pay for these dishonest ratbags to lie to us constantly.  Privatise the Met Office NOW!
Waddya mean, I didn't win?   There was £66 million quid up on offer at the National Con-trick Lottery yesterday and so I graciously allowed the 'Memsahib' to buy a ticket.  For years now I have been telling her that it's the worst bet in the world but she merely smiles at me sweetly and says that someone has to win.  Well, of course, I certainly deserve to win - but I didn't!  Again!  It's a fix, I tell you!
A 'creative' artist in all senses:   I am grateful to the Art Contrarian for these two examples of art from an unexpected source:
The artist was the late, great Richard Feynman, of whom it could be rightly asked, was there anything that man could not do?  All of which reminds me that I have some of his lectures bookmarked and I will get round to them, honestly, just as soon as I find my brain!
The US and UK back opposite sides:    I am trying to think, and with a head full of snot that isn't easy, when was the last time that the UK dared to back the opposite side to the USA in a foreign dispute?  Of course, the USA wobbled a bit over the Falklands dispute but eventually they came good.  But today, the UK is firmly, but discretely, in support of Saudi Arabia whilst the USA hands over the keys of the mint to Iran.  In the unlikely event that these two ghastly but utterly inept states actually go to war then Anglo-American relations could come under severe strain.  As so often, the Streetwise Professor sums up the pros and cons of Saudi vs. Iran and comes to the shrewd assessment that both are as useless as each other and that no-one but a fool would support either of them.
From the mouths of babes and sucklings and Chinese immigrants:   Paco has an interesting quote from a recent Chinese immigrant into the USA:
If you believe more gun control by your government is going to save lives, you are being naïve. The champion of all the mass killings in this world is always a tyrannical government.
George Orwell couldn't have put it better!
Would you shake hands with this man?  No, no, I don't mean 'el Chapo', I mean Sean Pennis, the well known Hollywood dick!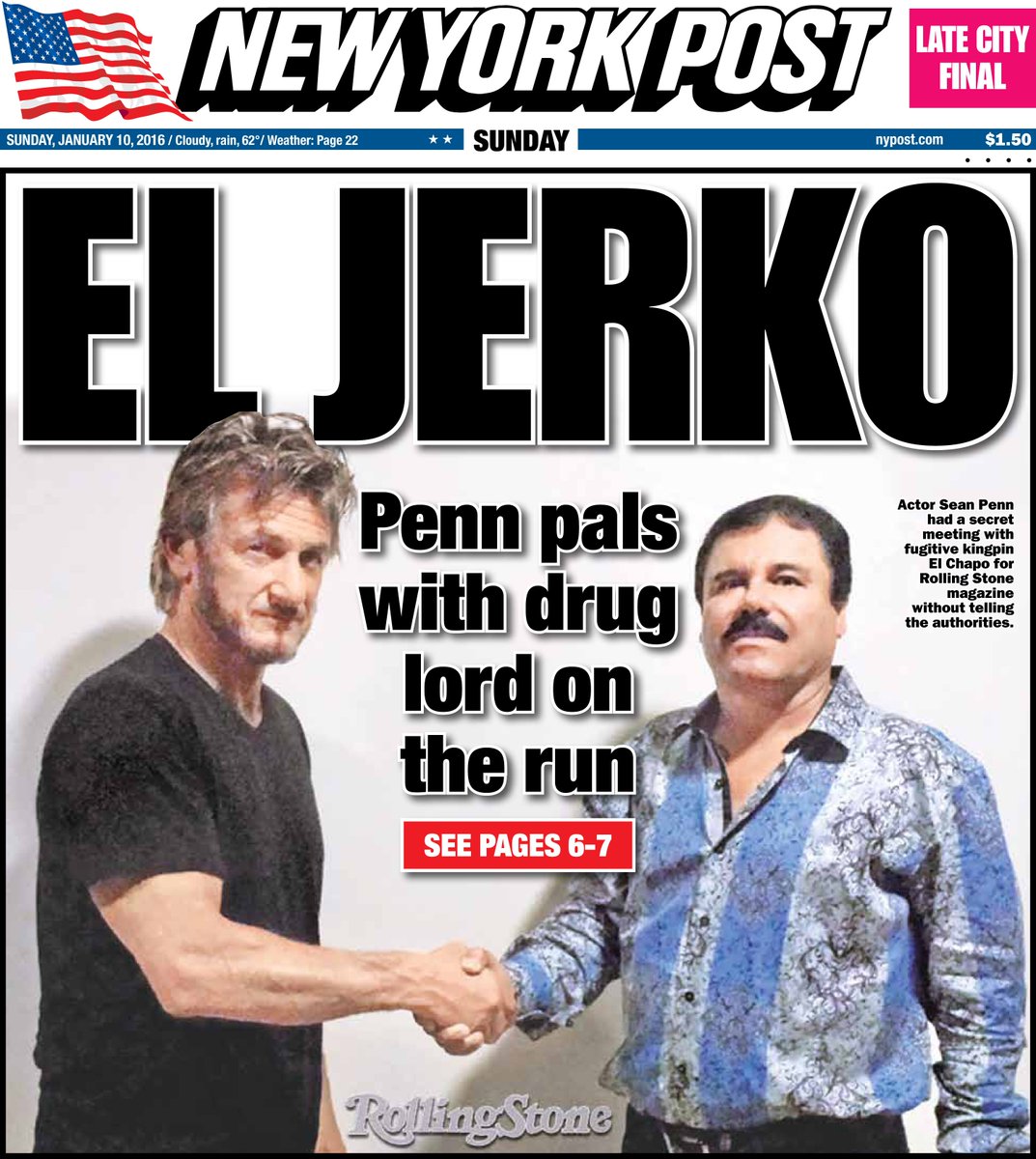 To paraphrase a line from a film made when Hollywood made great films, 'of all the people in all the world' who would choose to shake hands with a Mexican drug-dealing mass murderer?  Well now we know, so if you're unfortunate enough to shake hands with Sean Pennis in the near future, make sure to wash your hands afterwards and whatever you do don't sniff them!
An excellent Orwell quotation:   Talking of Orwell, as I was a couple of spots up above, I am grateful to Daniel Greenfield of the Sultan Knish site who supplied this one in his personal bio:
"We have now sunk to a depth at which restatement of the obvious is the first duty of intelligent men."
Mr. Greenfield is worth following as his latest post demonstrates - and not just because it confirms my own views.  The essence of the piece is contained in the title: America doesn't have a gun problem, it has a Democrat problem.  Well worth reading!
Timing, as in sex and drumming, etc:   Yes my favourite phrase but what could be more appropriate when we learn that the Germans have permitted Mein Kampf to be republished just after several zillion Muslim immigrants were invited in by the 'Kaiserin' and today we learn that the first edition has sold out!  Do I hear a ghostly chuckle from 'down below'?
No more coughs 'n' sneezes today