My regular reader will have noticed that the fraught subject of so-called 'anthropological global warming' (AGW) has not appeared in these august columns for some time.  The reason is simple - it's all over, finis, kaput!  It was only ever supported by a few get-rich-quick operators like Al Gore and zillions of shit-for-brains 'wallies' who still believe in Father Christmas.  The depths of deceit were fairly clear a few years ago when the, er, indiscrete e-mails of various poodle-fakers masquerading as 'scientists' at East Anglia University were published.  Even so, they still persist in their chicanery as the Real Climate Science site makes clear.
You will only need to have read a few of the early Watt's Up With That inspections of the so-called temperature recording sites in the USA to see that any historical data from them was worse than useless because the environment around them had changed radically over the past 100, or even 50, years, from semi-rural sites to city centre conditions surrounded by office blocks, car-park asphalt and hundreds of reflective windows.  But there has been one method of measuring temperatures which is about as neutral as you can get it - weather balloons, or radiosonde, as the techies call them.  You simply attach a measuring device along with a transmitter to a weather balloon and let it go whilst measuring the temperatures at various specific heights above the earth's surface.  Now that must be about as scientifically accurate and dependable as you could possibly wish for - which is why, of course, the hucksters at NOAA, the principal US government hawker of untruths concerning global warming have carefully harvested the results.
Courtesy of Real Climate Science (RCS), I show you the graph at the right-hand side as issued by NOAA for the 37 years from 1979 up to 2015.  Golly-gosh, you might say, that definitely looks like a warming trend.  However, those pernickety rascals at RCS have tacked on the preceding years from 1957 and one echoes Hamlet's woeful moan, "Oh, what a falling off was there".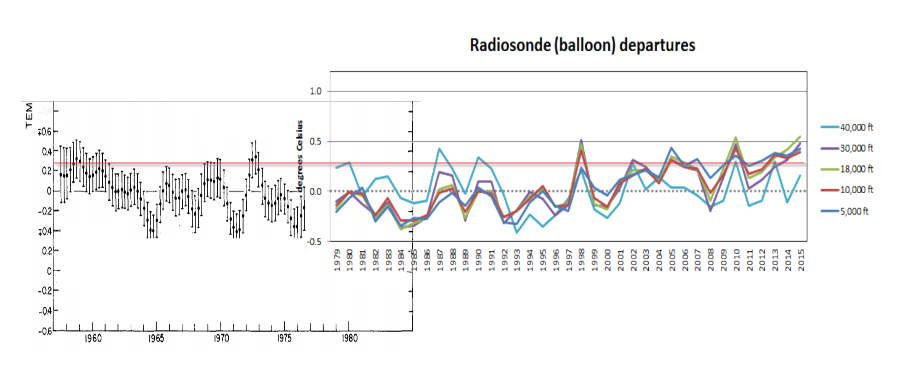 When you look at the whole picture, comparing beginning and ending, you can see that there has been virtually no warming at all.  It has gone up a bit, and then gone down a bit but there is no difference between 1957 and 2015 - the straight red line joins the two graphs.
So, as Hercules Poirot might muse, 'it is necessary to apply the little grey cells' and ask yourself why the NOAA 'Warmers' decided to cut the graph where they did?  There are no prizes for the right answer!