VOTE LEAVE:   Just take a few minutes to watch this short film which offers you proof of the 'bleedin' obvious', that is, that you have been lied to over and over and over again:
https://www.youtube.com/watch?v=jRDsXPjg8XU
Then please read 'the other lady in my life', Ms. Janet Daley, who asks, in effect, who wants to be a member of a club that sends in the 'heavies' armed with baseball bats and uttering dire threats if you even contemplate leaving this, er, 'democratic' club?
The 'Hefferlump' warns 'HillBilly':   Most of the received opinion is that 'HillBilly' will sweep to power as a majority of the American public hold their noses and vote for her rather than the maniacal Donald Trump.  However, the 'Hefferlump' (aka: Simon Heffer of The Telegraph), will not have it so.  He thinks the deep unease, amounting to a fever, within the 'Great American Public' will sweep the 'machine pols' away and they will give 'The Donald' his chance!  It looks as though the Republican voters have just done that with the darling of the GOP hierarchy, Marco Rubio - 'whodathunkit' a few months ago?
Homage to Klee:   As you can see in the comments below, my old e-pal, Ortega, has kindly sent me a link to the note-books of the late and very great artist, Paul Klee.  That is all the nudge I need to publish another of his entrancing pictures:
Look out, Jezza, the Paras are coming:    An interesting report did the rounds last week suggesting that a multi-zillionaire had offered 'loadsa moolah' to Mr. Dan Jarvis, formerly a major in the Paras and currently a member of the parliamentary Labour party.  The aim of the exercise, we are led to believe, is to 'tool up' Mr. Jarvis for a fight with 'Jezza' and his Left-wing loonies for the leadership of the party.  Bring it on, Gentlemen, and I am prepared to hold your coats!
The lights are going out all over Britain:   Well, they will be unless this utterly useless, wet, Greenie government slams the brakes on its current energy policy, ignores all this carbon-fear craziness and starts to build new gas/coal fired power stations.  Is there anyone with more than three brain cells who seriously believes that windmills and waves will provide a reliable source of energy?  Christopher Booker spells it out in The Telegraph.
History repeats itself - again:   I have been 'Boring for Britain' recently on the subject of Charles I and his efforts to make 'law' by Royal prerogative.  What goes around comes around and so this from the ever excellent and watchful Café Hayek is instructive, particularly to my American readers:
The relevance of absolute power for administrative law became more clear when one realizes that Anglo-American law has a history of an extra- and supralegal power in what what known as the "prerogative."  This was the name of the power claimed by the English kings, and it corresponds to the administrative power claimed by the president or under his authority.
Page 26 of Philip Hamburger's learned, timely, and important 2014 book, Is Administrative Law Unlawful?
Also, there is some wry amusement to be had from the fact that the two noble ringleaders of the opposition to King Charles, the Earls of Bedford and Warwick, both contemplated moving lock, stock and aristocratic barrel to Massachusetts if they failed in their opposition to the King.  Back then, of course, 'His Majesty King Obama', another prince of the prerogative, was not around!
At least we have a new James Bond:   With Daniel Craig humming and hawing over whether or not he will play James Bond again, we can all rest easy because it is obvious after the first two episodes of The Night Manager that Mr. Tom Hiddleston, in the grey suit below, is the man!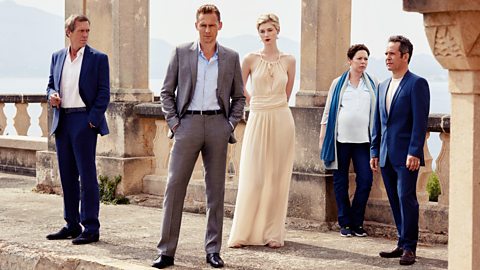 Incidentally, I have restrained myself from going OTT on this absolutely superb series produced by the BBC based on John le Carré's novel.  Suffice to say that it is excellent and if you have missed the first episodes then get busy on your 'catch-up-thingies' because it is not to be missed.  If you live 'over there' or 'down under there' then watch out for it!  In particular, look for Hugh Laurie playing the only film villain who has ever really frightened me!  What is it about these Old Etonians that makes so many of them brilliant actors?  Dunno, better ask Dave, I suppose! 
Simply too, too delicious - I can't wait:   As you regulars will know, I have been a subscriber to The London Spectator for decades but perhaps what I have not made clear is that I used to be an equally enthusiastic subscriber to The American Spectator (TAS)) especially when it was under the leadership of R. Emmett Tyrrell, Jnr.  Having shuffled into the 21st century I now read it fairly regularly on the internet.  I also remember a ferocious attack-dog of a reporter for TAS who used to regularly sink his fangs into leading members of the Democrat party, especially, the Clintons.  His name was David Brock.  Then something happened, I know not what, but he went all soft and soppy in the middle and became a supporter of the Democrat party.  According to an amusing but sharp article in the TAS by Mr. Tyrrell, it all started when he got up close and personal to 'HillBilly' during research into what should have been an attack article.  Suddenly his fangs went limp!  Shortly there-after he left TAS and joined the rolling money wagons of the Left.  However, the TAS still have the original research which they intend to reprint month after month in the coming election.  The re-action of Media Matters (sole prop: David Brock) will be, well, simply too, too delicious!
Rugby - a real man's game:   Or at least, I thought it was:
That's my lot for today!
No more rumbles