That land is actually the District of Columbia, or to be precise, the Superior Court of the District of Columbia which should be renamed as the Snoring Court.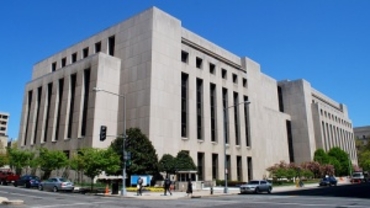 The District of Columbia Superior Court: the land where time stood still
I have, many a time and oft', taken a puny swing at the non-justice system of the USA which is a disgrace to a country that claims the leadership of the free world.  If ever the US legal system should reach out for you, take refuge in North Korea is my advice!
Lest you doubt me, take the example of Mark Steyn, a media commentator who had the effrontery to suggest that Michael Mann, the inventor (and I do mean 'inventor') of the global warming 'hockey stick' was a scientific cheat and a fraud. 'Prof' Mann sued.  And Mark Steyn counter-sued in an effort to ensure that the case would be heard quickly.  Fat chance!  As he reminds us, it is now four years since the case began and still it has not come to court, in fact one of Steyn's witnesses has now died!
They say that justice delayed is justice denied but it seems to me that in Washington, the very heart of the Republic, there is no justice at all because it simply does not exist.