Why do socialists find it so hard to eat?   'Up over here', we have only just recovered from the sight of Ed Miliband attempting to look like, er, you know, a real 'prole' by eating a bacon sandwich in a café.   The result was hilarious: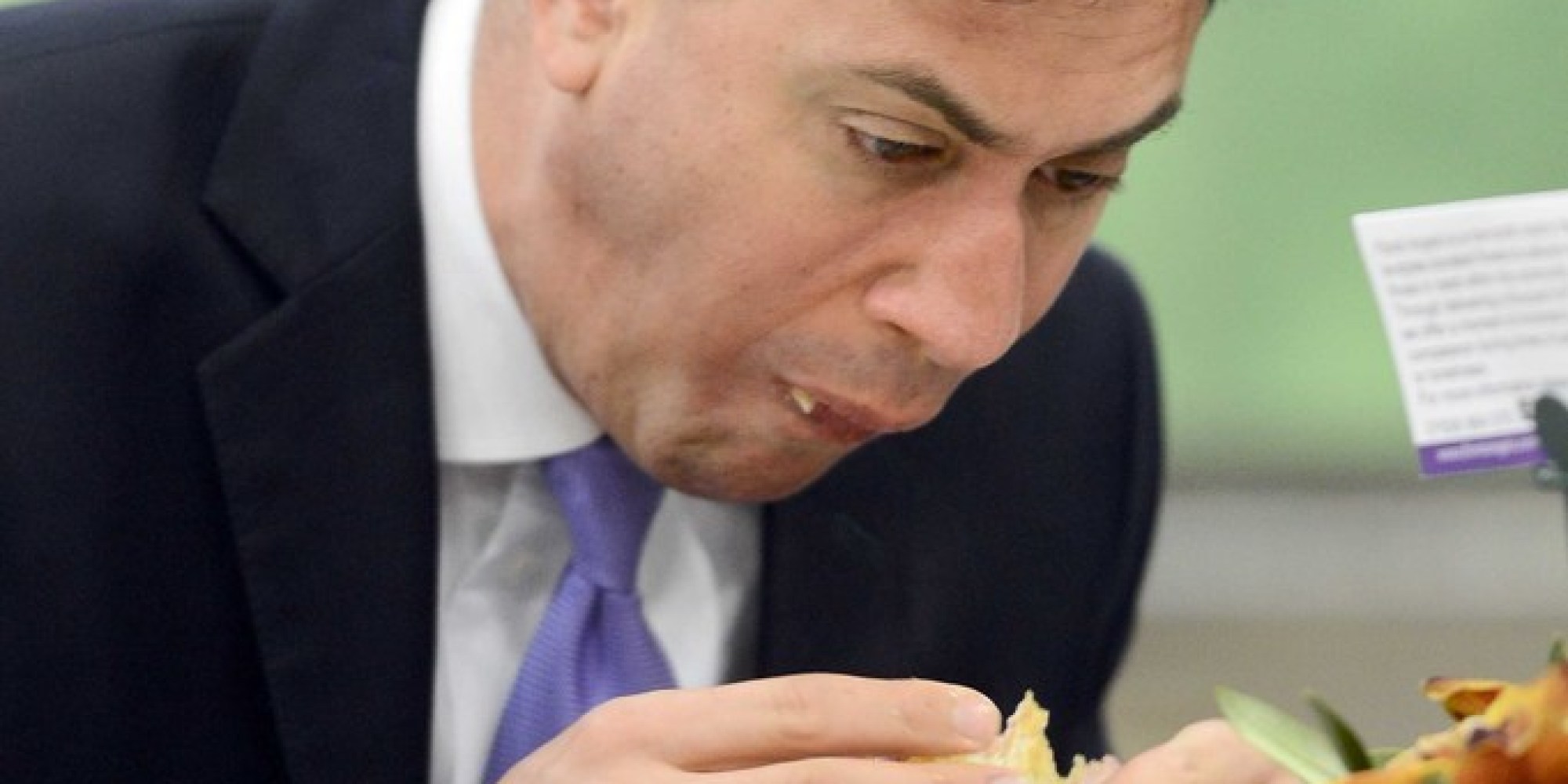 Meanwhile, 'down under there', the leader of the Australian socialist party has attempted the same thing:
Big fail!  Even so, I must call upon my Aussie mates for some explanation for the surprising election results 'down under there'.  What's going on?  And please tell me there is no chance of that ghastly woman with the incomprehensible accent returning to my news bulletins!  By the way, sorry if the pics up above ruined your breakfast.
'I'm innocent, I tell ya, innocent!'   'Honest ta God, y'all got the wrong gal!'
Yes, sorry again, yet another ghastly photograph.  Still and all (as they say 'over there'), such fun to be had at the thought of that female, lying liar being grilled by the FBI.  Mind you, I suspect they were all falling over themselves to be ultra polite to the dreadful little 'perp', referring to her constantly as 'Madame Secretary' or 'Senator Clinton'.  What I wouldn't give to see her in yellow overalls!
I have been diagnosed with GES:   I know, I know, a fate worse than death!  And alas, Galloping Ennui Syndrome has no known cure for someone of my age. Years ago if I became eye-stabbingly bored by something I could always turn to sex but, alas, these days not only is the flesh not willing, nor is the spirit!  Of course, it is in the Summer that GES reaches the depths because there is nothing to distract me except endless 'Plink-Plonk' from Wimbledon, or 'rounders' from the Oval (cricket having disappeared years ago), or even worse, the England non-Football team.  Is it any wonder that my attention is diverted to Brazilian Ladies Volley-ball but, dammit, the coverage on my 'telly' is virtually non-existent.  I may have to make up with my old ex-best friend, Rupe, especially during the Olympics.  Here's a pic to make up for those ghastly ones above:
And now the splitters ooze out of the paintwork:   Beginning with the biggest 'oozer' of the lot, Tony Blair.  Never mind, he says, that a majority of Brits voted for 'OUT', who cares about all that democracy lark, we, the political class know best what's best for you lot!  Suddenly, Blair is here, there and everywhere in London so my guess is that the Chilcot enquiry will slap whitewash all over him.  If he had a hint that he might get his collar felt he would have sent his messages from some dictatorial dump in Asia where he is always so very welcome! 
Why did Obama send us a dipstick?   I ask because, according to The Mail, the American ambassador to the Court of St. James, Mr. Matthew Barzun, has let it be known that he and his wife are in, er, 'couples therapy' - yeeeeees, quite!  Apparently she is a therapist and he is the son of a therapist so one is tempted to suggest 'therapist, heal thyself!',  According to this latter-day Talleyrand, "
'It is really important to think about what you say and to be honest.  'You know, that's between two people, and not two countries. But I think the same should apply.' 
Where do they find these people?
No more rumbles later today