Simply too, too delicious:   Fox News rolls around on the floor clutching its tummy and howling with laughter as it reports on a letter from the publisher of The New York Times to his editorial staff as they busy themselves clearing up the poo they dropped over the last few months and then eating it!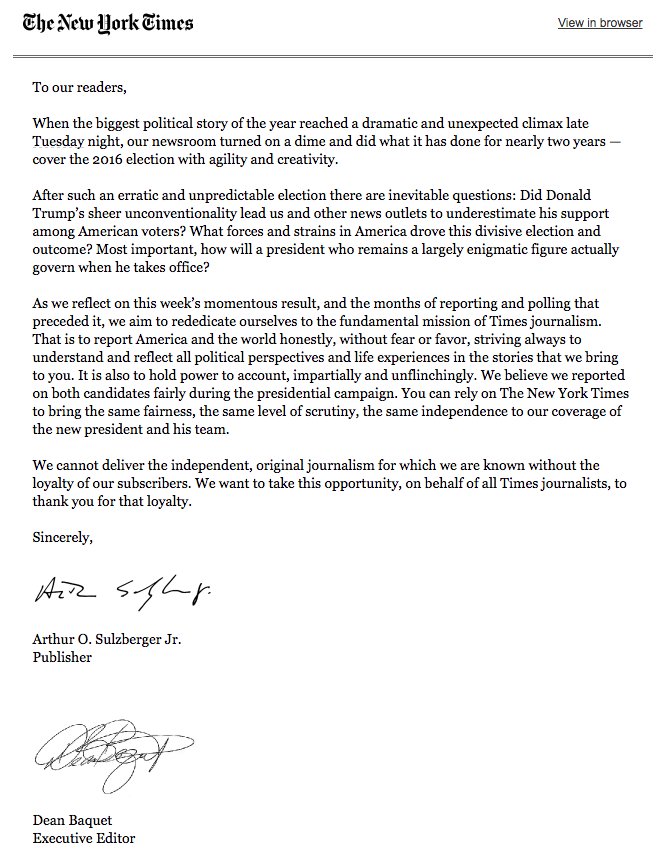 Now look here, Australia, do get a grip!   The only thing that even remotely passes for a religious ritual in this house takes place on Saturday evening at 9.00pm when I flick on to BBC4 - and yes, my social life has diminished somewhat these days!  Usually I find there a 'Scandie' thriller which might vary from utterly brilliant to snoring-boring but at least they are well made and I can follow the story line.  However, in its infinite wisdom-not, the BBC occasionally shows thrillers from other nations and for the last few Saturday nights they have been Australian.  All I can say is that you must have minds like Alan Turing 'down under there' because I couldn't make head nor tail of any of them and the writing and acting was crap! Do buck up or we'll take the Ashes away from you - again!
Hitchens has it about right:   In his Sunday column today, Peter Hitchens shudders at the thought of a Trump presidency but puts the blame where it belongs, on the shoulders of the 'liberal' elite:
On they ploughed with their mass immigration, their diversity and equality, their contempt for lifelong, stable marriage, their refusal to punish crime, their mad, idealistic foreign wars, their indulgence of drugs, their scorn for patriotism, their schools and universities, turning out graduates with certificates they can barely read.
And like me, he worries about what will happen if Trump turns out to be what many of us suspect, a busted flush, a braggart with no wisdom, a man who couldn't spell the word 'subtlety'.  None of us really have the exact measure of the man, all we can do is cross our fingers (and legs if you are an attractive female) and hope!
Them Jews is runnin' the world, I tells ya!   Plenty of ammo for the anti-Semites in the form of Trump's son-in-law, Jared Kushner, the subject of a fascinating article in The Daily Telegraph.  The Kushner family background is fascinating - dear old Dad did jail-time courtesy of Chris Christie, the former Governor of 'Noo Joisey'.  Honestly, you couldn't make it up, it reads like an American novel, and according to the DT, Kushner is the power behind Trump's throne.
Was old Fred Nietzsche right, after all?   I dunno, I stopped studying philosophy years ago!  Even so, if pressed I would say, "I really hope not".  The question is raised by Theo Hobson over at The Coffee House whose opening paragraph reads thus:
It's time to consider Nietzsche's view of liberal democracy. It couldn't work, it couldn't bind a nation together, he said. Why not? Because of its excessive moral idealism. The belief in equality and social justice, which he rightly saw as deriving from Judaism and Christianity, would lead to fragmentation. For politics would be dominated by various disadvantaged groups demanding respect. Any sort of unifying ethos would be treated as oppressive, the ideology of the ruling class. If virtue lies in weakness, and victim status, healthy politics is doomed.
Positively my last words on the election:   Well, to be honest, not my last words but those of the lady I want to bear my babies, Ms. Janet Daly.  She is so perceptive and intelligent and she begins thus:
How did that mantra go again? "Elections are always won on the centre ground." Well goodbye to that. While we're at it, goodbye to message management, to focus-grouping and campaign grids, to professional spin, to instant rebuttal, to scripted soundbites and all the rest of the baggage that turned politics into marketing. Bye-bye.
Oh, I do hope so, I really do, but Ms. Daly is nervous, nearly as nervous as me:
What happens next, when they discover that the man in whom they put their trust cannot possibly deliver what he promised – a return of prosperity to those "left behind" by the globalisation of wealth and labour – is too frightening to contemplate. For what it's worth, I thought Trump's body language and facial expression at the White House last week suggested that he was discovering just how out of his depth he was. But for the moment, the voters support the system and are determined that "government for the people" should mean what it says.
Ah, but will it?  And if it fails in Trump's inexperienced hands - what next?
The prospects for manual workers, even skilled ones, are declining. Technology is making their employment obsolete. What low-skilled work remains is now being supplied by a globalised labour market transporting armies of migrants from one corner of the world to another at the behest of a globalised economy.
This is what makes the Trump promise to bring jobs back to the American rust belt so unrealistic. He might launch infrastructure projects just to keep people working but this employment recovery will be a short-term illusion – just as it was under Roosevelt's New Deal.
We may be back to those "interesting times" of which anyone with brains would be exceedingly nervous.  Do read Ms. Daly's piece in its entirety.
Let me finish on a cheerful note:   We might 'ha'e ur doots' concerning some of Trump's schemes but one thing we can all agree on and cheer on and that is his determination to bring all that Global Warming crapulata to an end. Hurrah!
No more rumbles tonight