And needless to say, all the moaners and groaners and whingers simply added to the fun of it all.  For those of my readers unfamiliar with the front page of The Daily Mail, here it is: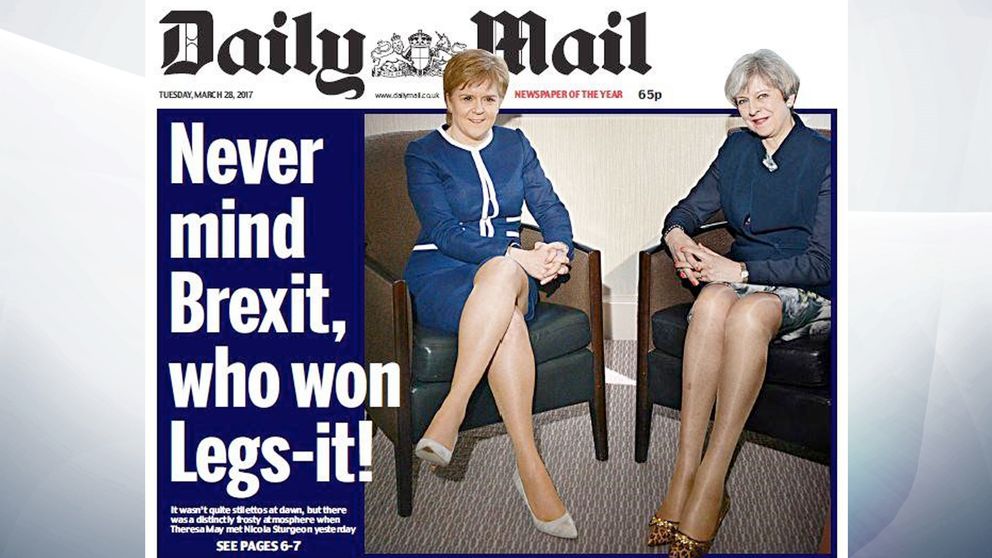 Image: The Daily Mail headline
Of course, it shows 'Mrs. McWhinge' and 'St. Theresa of May' at their meeting yesterday when they discussed Brexit and Scottish independence, er, well, to be accurate, 'Mrs. McWhinge' probably never stopped going on like an out of control hedge-trimmer on the latter, whilst 'St. Theresa, talked down to her on Brexit assuring her that Scottish views were really, really - no, really! - important and HMG would study them very closely before ignoring them!  So far, so normal and 'notta lotta' of laughs.
However, the 'down at heel, dandruff-ridden, smelly socks brigade' in the newsroom of The Mail could not resist a bit of fun at the expense of both ladies, hence the picture and the caption.  Mind you, to be fair, it was also a plug for an article by one of their star columnists, Mrs. Sarah Vine (aka: Mrs. Michael Gove MP) who had some light-hearted fun at the expense of both ladies:
But what stands out here are the legs – and the vast expanse on show. There is no doubt that both women consider their pins to be the finest weapon in their physical arsenal. Consequently, both have been unsheathed.
May's famously long extremities are demurely arranged in her customary finishing-school stance – knees tightly together, calves at a flattering diagonal, feet neatly aligned. It's a studied pose that reminds us that for all her confidence, she is ever the vicar's daughter, always respectful and anxious not to put a foot wrong.
Sturgeon's shorter but undeniably more shapely shanks are altogether more flirty, tantalisingly crossed, with the dominant leg pointing towards her audience.
Cue: a mega, nay, a 'yuuuuge', torrent of hissy-fits, foot-stomping and outrage from the usual suspects.  Thus, the first thing I heard this morning was one of Dim Dave's more useless ex-ministers, Nicky Morgan MP, complaining about sexism - why am I not surprised? - and then the news that that big girl's blouse, Ed 'Milipede', was 'shocked, I tell you, shocked', then 'Jezza' joined the chorus of weepin' 'wimmin' and so it has gone on all day.
Yet again I am reminded of those wise words of the late, great Auberon Waugh who advised that when faced with a politician on a soap-box always shout, 'Show us your willy!'  Difficult for the ladies but you know what I mean!