My bad!   Sorry about the late start but I was up very late last night - hit the pillow at about 1015pm! - because I was engaged in a ruthless, high stakes, high tension game of, er, well, Canasta, actually!  Well, it was me and my pal versus our respective wives, so no holds barred, so to speak!
Arty-farty #1:   Sorry, sorry but it's not my fault.  Somewhere, and I forget where, I came across an article on Edward Hopper who is, according to some people, the most boring-snoring artist ever, with the exception of that nitwit who paints square canvases all one colour.  Here is an example of his work:
See what I mean?!  And yet ... and yet ... I can't help staring at it, and wondering.  Who lives there and how do they manage to have a door over the sea?  The repeat of the angled sunlight, the little splash of red in the back room to off-set the blue of the sea.  Dammit, it intrigues!
How long, oh Lord, how long?   I am tempted to say that Mrs. May is leading her party to disaster but, of course, it is blindingly obvious that she couldn't lead a parade of invalids!  I had hoped that she would, by the skin of her teeth, hang in there long enough to achieve a reasonable Brexit and then call it a day but, alas and alack, the Tory party are descending into a rabble.  Her only strength is the fact that the rabble are hopelessly divided over who they would want as a new leader.  With the exception of 'The Moggman', who doesn't have chance anyway, none of the alternatives send a thrill up my trouser leg!  In the meantime, the Marxist grunts gather at the gates!
Plucky little Czechia did it:   They voted in, but only just, an anti-Brussels President who is pro-Russian and pro-China.  So tell me, Mr. Juncker, when you put that bottle down, how much of the responsibility is yours for ramming home your ideas of a European super state?
Arty-farty #2:
Who are they?  What are they thinking? Why are they not looking at each other?  What is the back-story?  And what is she reading?
Trump gets my vote - no, no, not him - her!   There is no doubt in my mind, or what passes for it - that Melania Trump is drop-dead gorgeous and is the most attractive First Lady ever:
 It is unfortunate that her English is not yet of a sufficient standard to understand and reply to the many letters I send her but it can only be a matter of time.  Mind you, 'Melly', my darling, given my age, time is of the essence!  I also suspect, judging from her public persona, that she is quietly a very intelligent woman.
Where is PeterG when you need him?   We all remember the affable-not, intelligent-not, educated-not, Canadian plonker who used to, er, grace these columns.  How I wish he was here to read this suggestion from the curmudgeonly old geezer who runs IHTM.  Apparently, the former Mrs. Trudeau, that is, the present PM's mother, was 'a very naughty girl' which is the reason why in the end Trudeau Snr. divorced her.  She made several visits to Cuba and she and her husband made no secret of their admiration for the hairy monster.  However, a study of the photos suggest that Trudeau Jnr., the current Prime Minister of Canada, bears a quite remarkable resemblance to his mother's, er, hero.  Also, Trudeau Jnr. was especially effusive in his funereal tributes to dear old Dad, ooops, sorry, I mean, the Dear Leader.  Jes' sayin'!
Arty-farty #3:   Sorry, more bleak loneliness, even in a city!  Why do I look at this stuff, it just depresses the hell out of me?  You might retitle it: 'The Loneliness of the Long-Distance Office worker'!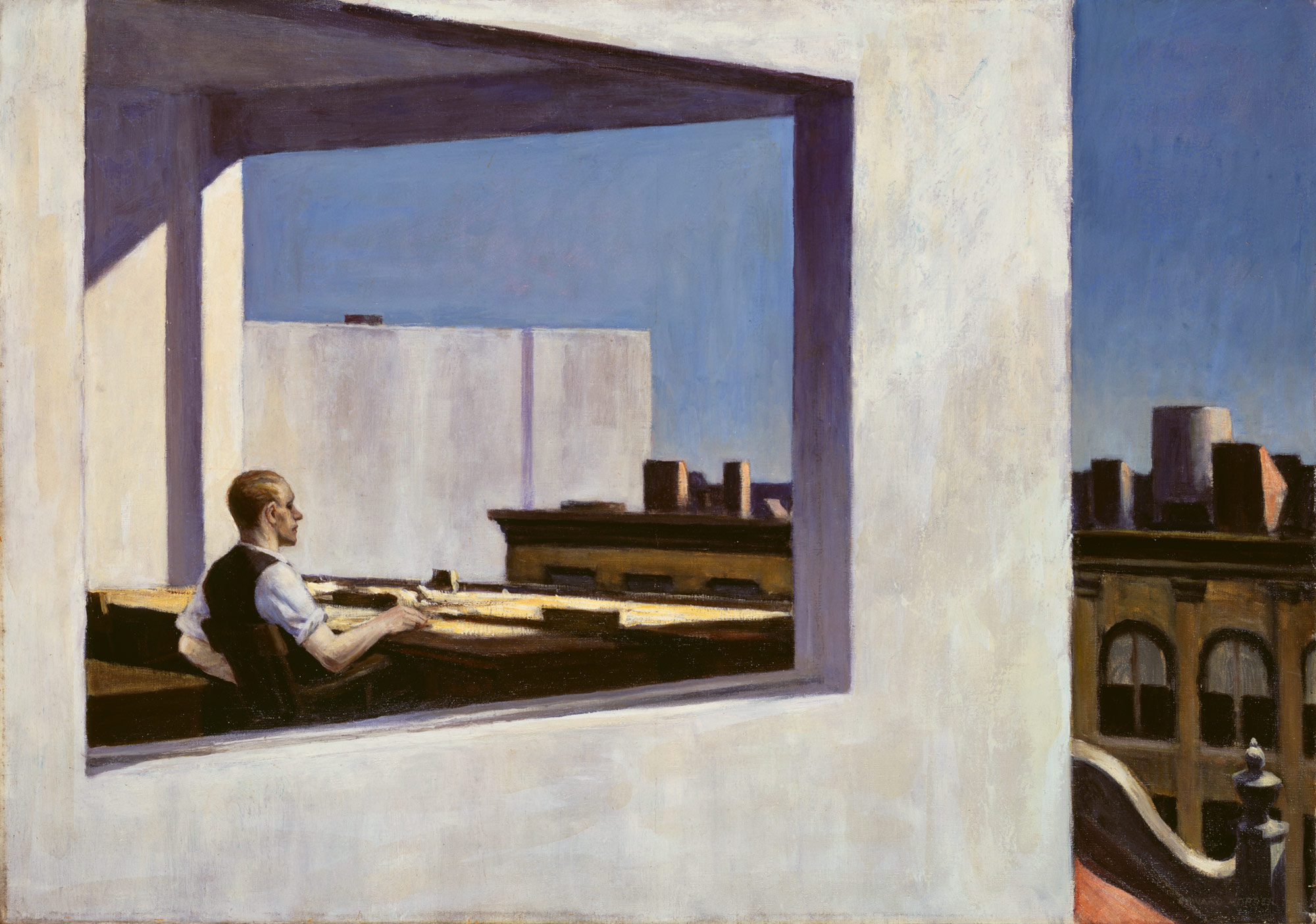 Arty-farty #4:   Well, at least there are three people in this one, practically a crowd scene in Hopper's work!  Again, it's the dramatic contrast of light and shade and the warring angles.
Raffles was a rat!   But William Farquhar was a true-blue, British gent of the first order.   Well, that is according to the review of a book in this week's 'Speccie' called "William Farquhar and Singapore: Stepping out from Raffles' Shadow" written by Ms. Nadia H. Wright.  According to the lady:
Into this dusty tale Nadia Wright throws a much-needed stick of revisionist dynamite. Raffles is here portrayed as a reckless, inept opportunist, a bully and a hypocrite, who stole the crown from the man actually responsible for building the entrepot. Spare a thought for Raffles's second-in-command, a tall, gentle Scotsman named William Farquhar.
Speaking, of course, as an old Singapore hand, don'cha know, I can testify to the fact that the name of Raffles dominates all and I have never heard of poor old Farquhar!  Mind you, if you read his Wiki entry you will note that he was the 5th great-grandfather of Justin Trudeau (see above) via the rather naughty Margaret Trudeau.  See, if you look hard enough everything and everyone is linked.
The final arty-farty for today:
Reminiscent of "Nighthawks" although this is from the inside looking out.  Who is she?  What is she thinking? Is she happy, sad or just thoughtful?
No more rumbles today