I'm in mega-grump mode!   First of all, some superannuated 'pecksniff' has just nicked an hour of my sleeping time by putting all the bloody clocks forward.  Then, second of all, that 'damned Hun' cheated our frightfully decent, pukka, British gent, (Sir) Lewis Hamilton, out of winning the Australian Grand Prix.  The 'krafty Kraut' took advantage of a Safety Car incident by diving into the pits to change his tyres whilst the rest of the pack had to go round slowly - typical!
Talking of cheating:   I see those Aussie rotters have been caught cheating at cricket - yes, cricket! - is nothing sacred?  Their captain, the progeny of a mixed marriage between a koala and a wallaby, admitted the transgression but told the world he had no intention of resigning.  It's an absolute disgrace, I mean, when did you ever catch a decent British chap cheating at cricket - sorry, I didn't quite catch that . . . 
"Stop all the clocks":  Thanks to The Telegraph today which publishes a fascinating article on the ins and outs, the whys and wherefores and the pros and cons of messing about with clocks - worth a read!
Dan Hodges sums it up thus:  
"At the time of writing, three people are the bookies' favourites to be the next Prime Minister of the United Kingdom. In order, they are Jacob Rees-Mogg, Jeremy Corbyn and Boris Johnson."
So, not all bad, then!  Mind you, he adds a final rider:
"And then there is one final, desperate, fantastical scenario. Which is that Theresa May hangs on, continues to solidify her position, and then prospers."
In which I disagree with Peter Hitchens:   Yes, really - God I'm brave!  In his column today in The Mail he takes a swipe at Sir Ringo Starr for accepting, after a decades long wait, a Knighthood from Her Maj.  To be fair to Mr. Hitchens - and who wouldn't be if you have any sense? - I do remember, when the other Beatles received sundry honours, thinking to myself that in the astronomically unlikely event that I was ever offered one, I would refuse.  I still would!  However, of the four Beatles, I do think Ringo deserves some recognition.  No doubt in his youth he was 'a very naughty boy' but then again for the last 30-odd years he appears to have lived a quiet and respectable life with the very lovely Barbara Bach who, alas, is another lady who never replies to my letters.  The fact that they are both vegetarians must not be held against them!
YOU MUST READ THIS!   I am extremely grateful to my e-pal, AussieD, for sending me this:
http://quadrant.org.au/magazine/2011/03/harold-larwood-unlikely-australian/
It is the equivalent of travelling backwards in a time machine!  I know the name of Harold Larwood and I have vague memories of the (in)famous 'bodyline bowling' controversy that soured Anglo-Australian cricket relations for years but I knew nothing of the details.  This essay not only spells them out but also illuminates beautifully the class distinctions in English cricket up until WWII.  Thanks, AussieD, that was a terrific read!
Now here's a useful - and amusing - book:  As recommended by 'The Speccie':  Gimson's Prime Ministers: Brief Lives from Walpole to May by Andrew Gimson.  Here's one of them, Lord North, who in an act of forgetfulness or carelessness, lost us the American colonies:
According to the reviewer:
When asked to identify 'that plain looking lady', he replied amiably that she was his wife. His embarrassed companion tried to recover by saying: 'No, no. I meant the dreadful monster sitting next to her.' 'That, sir, is my daughter,' North replied. 'We are considered to be three of the ugliest people in London.' He died in 1792, fearing his reputation would be wrecked by the loss of America. Fortunately for his ghost, history is not taught well in schools these days, so he has no reputation whatever. As far as I know, he doesn't even have a pub named after him.
That would make a good birthday present for someone, don'cha think, SoD? 
But will she perform? I refer, of course, to Ms. Stormy Daniels, a lady who can be accurately described as 'a performance artiste', and who intends to explain, precisely and accurately, what went on between her and President Trump back in the day - or perhaps back in the night is better! - when they once shared a nice cup of tea together and discussed the political situation South East Asia.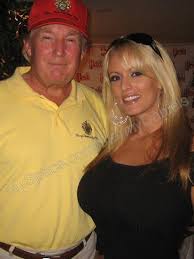 It should be a fascinating TV interview - can't wait!
No more rumbles today