Honestly, nowhere is safe in 'Blogdom' from my thieving fingers!  This exquisite picture featured on the 'Figures of Speech' site whose proprietor visited here and left one or two comments a few days ago under the pseudonym of 'fos'.  I returned his visit and came across this painting on his site which so entranced me that I kept returning to look at it again and again.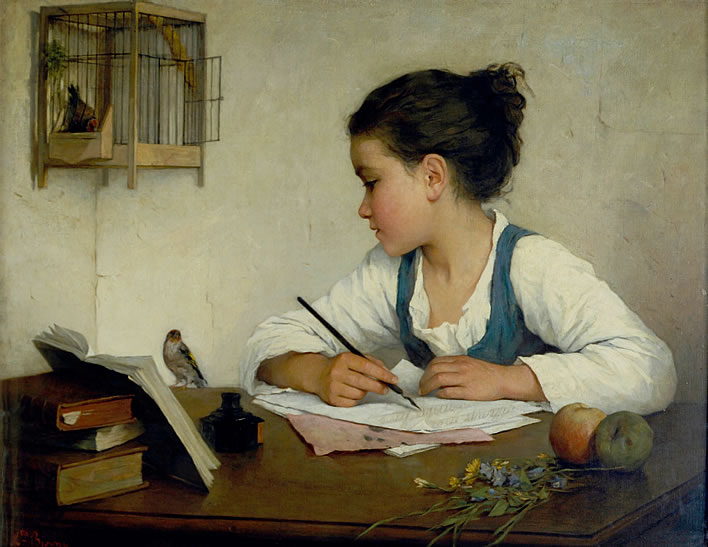 Very usefully, 'fos' added these notes concerning the picture:
Henriette Browne (Mme Jules de Saux, née Sophie Boutellier) (1829-1901): Enfant écrivant / A Girl Writing / The Pet Goldfinch, c. 1870. Image: Victoria and Albert Museum. [Click on the image to open a larger version in a new browser tab, 3137 x 2422 px]
This painting is part of the collection of the Victoria and Albert Museum in London. Unfortunately, the V&A is one of those museums/galleries that restrict internet access to quality images of their paintings. The image of this painting on their website has been deliberately faded. The image offered for download is larger, but just as bad in detail and colour rendering. The image is also available from Google Arts and Culture, but in a gloomy and unappealing reproduction.
Also, 'fos', adds a detailed and technical analysis of the painting which is helpful.  However, for an artistic ignoramus like me it is simply sufficient to gaze at it and admire the immense skill and artistry of the painter - the patina of the walls, the light and shade on the face of the girl, the depiction of her hands, the mystery of the wilting flowers on the desk and so on.  Yes, the subject matter may be described disparagingly as 'cute' but I don't care, I love it and the Victoria and Albert Museum had better watch out because I might break in and nick it!