The problem with history is that it's just like the present, absolutely stuffed full of those damned "unknown unknowns'!  However, to be fair, at least today we can discern - just about! - where and how they gradually became 'known knowns'!  Yes, as you will have guessed, I am still diligently working my way through "The Story of Britain" by Sir Roy Strong.  I have now reached what I suspect is the fulcrum of the story - Henry VIII.
He, of course, was far more than just the "very naughty boy" we were all taught about at 'skool' because he was, in fact, a monstrous, murderous maniac, although to be fair, so were most of his predecessors!  However, such was the monumental nature of his - dare I say? - revolutionary actions that the entire history of Britain shifted to a new axis.  Much of what he wrought was in fact the work of what might be called Britain's first 'Head of the Civil Service', a certain Master Thomas Cromwell.  (So no change there then!)  I mention all this because a new, and apparently definitive, biography of the man has just been issued:  "Thomas Cromwell: A Life" written by Diarmaid McCullach.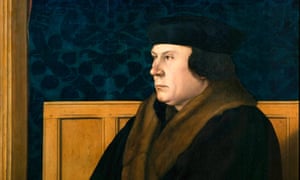 'The likeness that has shaped the tormented afterlife': Hans Holbein the Younger's 1532-33 portrait of Thomas Cromwell (detail). Photograph: Fine Art/Corbis via Getty Images
I am pleased to say that Ms. Hilary Mantel, whose very fictional novel of the man captured the public imagination, has written in praise of McCullach's ultra-realistic book despite it being a very different portrait.  Anyway, dammit, that's yet another book I just must have!