Dammit, I lost - again!   The Memsahib and I have a little game, er, well, actually it is so ruthless and deadly it comes close to warfare, in which on the first day of each month we both try to be the first to deliver, before midday, mind, the ancient line, "Pinch, punch, first day of the month, no return, white rabbit".  Yet again she cheated today because I came downstairs and was sitting on the patio enjoying my usual glass of orange juice when the bedroom window flew open and out she popped, like Punch's wife, and shouted out the winning words.  God knows what the neighbours think!
I'm glad Dan Hodges is back:   He has been on holiday/skiving (you decide) from the Mail on Sunday for weeks.  Happily, he does not seem to have lost his commonsense:
It was Parliament that voted to grant the British people a referendum on our membership of the EU. It was Parliament that voted to trigger Article 50 when a majority of those people voted to leave. Five hundred and sixty-eight of our 650 current MPs were elected on manifestos pledging to respect the referendum result.

It was Parliament that voted on three separate occasions to prevent Britain leaving the European Union with a deal. And it was Parliament that voted on March 26, 2019, to take control of the Brexit process, held a succession of votes on its preferred Brexit model and spectacularly failed to find a majority for any of them.

All the haughty expressions of democratic outrage we have heard over the past few days ignore a single, simple fact. The people of Britain voted to leave the European Union in the biggest expression of popular will ever seen in this country since the introduction of the universal franchise. And, more than three years later, our politicians persistently and pig-headedly refuse to respect and implement that democratic instruction.  [My emphasese]
Perhaps he's only half a tit:   As opposed to being a 'total tit' which is where I consigned the Archbishop of Canterbury until this morning.  Much to my surprise, he is reported in Her Maj's Daily Telegraph today as saying:
In remarks reported by the Church Times, he added: "We have to take seriously the fact that the majority voted Leave. We may not like it, but that is democracy; and that means we have to stop whingeing about it and do something about reuniting the country." 
Jolly well said, 'Bish', old boy!  Next time I pass the collecting box at St. John's church, just outside my front door, I must remember to drop a few 'bob' in!
Control yourselves, ladies, this do be Dorset man:
My word, you would not want to mix it with the Cerne Abbas giant!  According to the Telegraph, he is getting a 'make-over' because that damned grass will keep on growing.  According to the delightfully named Ms. Boudica Fox-Leonard who is one of many volunteers helping to give him a 'make-over', "The left nipple on the Cerne Abbas Giant is looking a bit grassy!"  Well, we can't have that, can we?
Even so, I trust dear Boudica will keep well clear of his naughty bits!
Not quite as sexy as the Cerne Abbas giant:   Same technique though, this time just outside Salisbury where there is a collection of Regimental badges carved into the chalk hillside.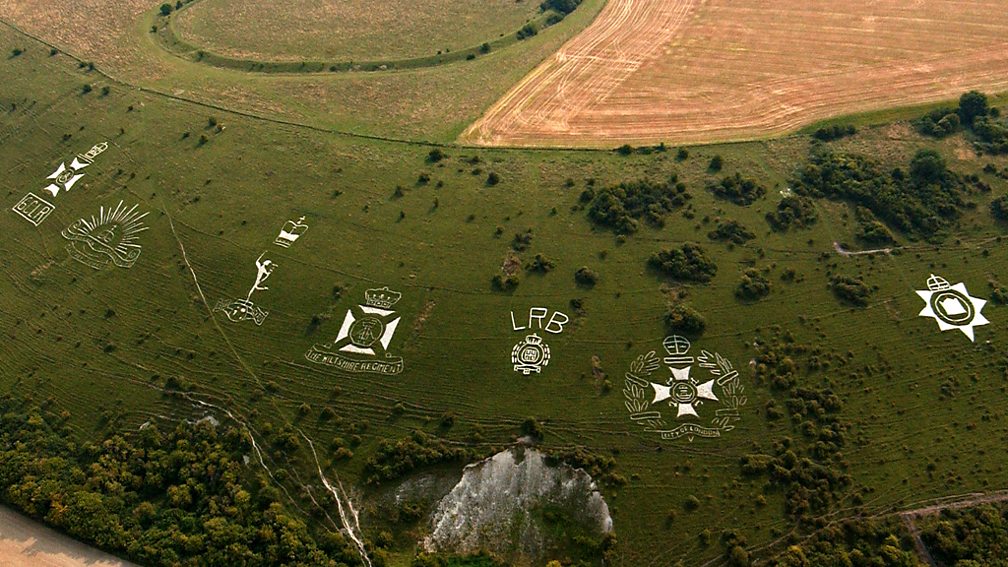 Known as the Fovant Badges, most of them were done during WWI by troops waiting to go over to France.  They include the Australian Forces badge, second from left, because many of the men involved were from Australia.
Alan Dershowitz tells it the way it is:   Beware, America, it is not China or Russia, let alone Iran, who are your greatest threat; it is your very own, internal, hard Left who are the real danger to everything you hold dear:
I make the controversial claim that today the "woke" hard-left is more dangerous to civil liberties than the right. To be sure there are hard right extremists who would use — and have used — violence to silence those with whom they disagree. They are indeed dangerous. But they have far less influence on our future leaders than their counterparts on the hard-left. They are not teaching our college age children and grandchildren. They are marginalized academically, politically and in the media. The opposite is true of hard-left Stalinists. Many have no idea who Stalin even was, but they are emulating his disdain for free speech and due process in the interests of achieving the unrealizable utopia they both sought. They also have in common the attitude that noble ends justify ignoble means.
I cannot speak for Americans but in my trembling British opinion the next Presidential election is absolutely crucial.  If the Dems win then the fabled 'city upon a hill' will be shaken to its foundations.
The winds, or slipstreams, of change are blowing in F1:   The new kid on the Ferrari block, Charles Leclerc, beat his team-mate, Sebastian Vettel, into 4th place as he took the chequered flag at the Belgium Grand Prix today.  (Sir) Lewis Hamilton chased him down but could only finish second.  The other 'new kid on the block', (mad)Max Verstappen lived up (or down!) to his reputation by hitting another car in an audacious over-taking manouvre and thus wrecking his car.  Things are hotting up in F1 racing!
No more rumbles