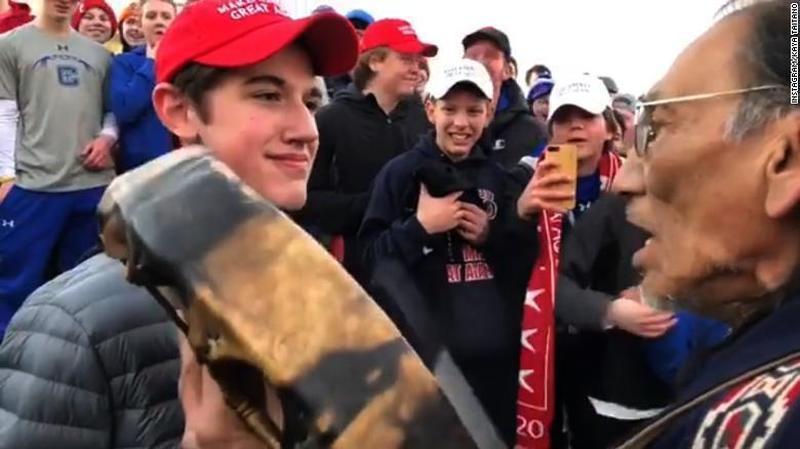 The young man in the photo, Master Nicholas Sandmann, was a pupil at a Catholic High School in 1918 when some sort of demo-rally kicked off featuring some old Red Indian 'scrote' called Nathan Phillips, a well known activist on behalf of 'native Americans'.  Master Sandmann did nothing but be a spectator but was caught in a photo opposite Phillips and subsequently the photo was, er, 'adjusted' and the story put about by the 'meeja', mainly the WaPo and CNN, that Sandmann had mocked 'Big Chief' Phillips.  Screeching demands were broadcast that Sandmann should be punished.
The fact is that Sandmann did nothing other than smile politely and - SCHLOCK-HORROR! - wear a Trump-style 'MAGA' hat.  That was enough for the dimwit fanatics at CNN et al to launch their vicious campaign against Master Sandmann.  Yesterday, CNN settled a $275 million lawsuit brought against them by Master Sandmann.  OUCH!  Those useless, lying-liar, Leftie-journos must cost their employers a fortune - I'm delighted to say.  The WaPo and NBC Universal are next up in the dock. 
What can one say except 'ohdearwhatapitynevermind'!