I should explain that the "Big Sis" in my title refers 'Sister Wolf', a ferocious and very funny blogger I came across years ago.  Hitherto, I would have described her just as an 'e-pal' but actually, a couple of years ago I met her in London when she was on a trip 'over here' so that allows me to drop the "e" from e-pal.  She, and her sister, were very far from ferocious, both being charming and friendly.  Anyway, today she has a blog post which, as so often, left me chortling.  Below, I reproduce a photo that she used to illustrate her post - the elderly gentlemen amongst my readers should try to contain their excitement!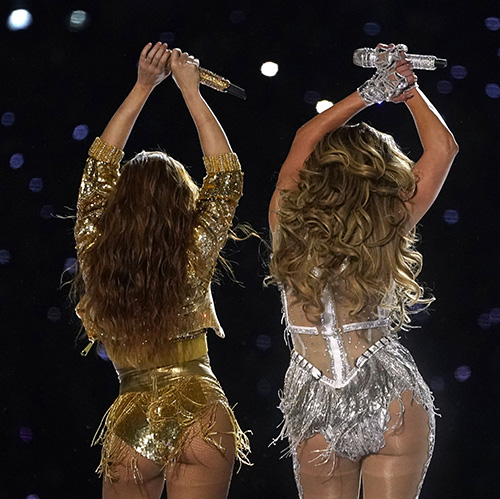 Apparently, the two ladies above, about who, regrettably, I know nothing, provided the dance and musical background to some 'yuuuuuuuuge' sporting event 'over there'.  Subsequently, a dispute has arisen as to whether or not their dance routine helped 'empower' women or not.  'Sister Wolf', needless to say, has an opinion:
PLEASE tell me that you agree with me, that the show was as disempowering to women as if they'd been scrubbing dishes on their hands and knees.
What is empowering about women having to wear stripper outfits and shake their asses? What is empowering about the hours spent getting hair extensions and spray tans and investing in personal trainers? I see it's empowering for the people who provide the services and for the cosmetic surgery industry but for women?? Bitch please.
It's not empowering to feel you must look like you're in your twenties when you're fifty. It seems sad to me. Even Brad Pitt is allowed to look weathered. It seems like oppression. Maybe in the age of Trump, oppression is empowering?
Shakira is gorgeous and I have to say she's a really good dancer. She looks like a fit 43 year old. Not a miracle of make-up and hair professionals, but a genuine babe, you know? Good for her.
But most of the accolades are going to Jennifer Lopez, who makes it look SO HARD, with every step and ass-wiggle seeming to visibly cause her anxiety. When is desperation empowering? When she sang something about "I'm still Jenny from the block" my husband and I both laughed out loud.
Jesus Christ, empowering my flat ass.
Whatever you say, 'Big Sis', but if you could see your way clear to printing a moving picture of the dance routine, I would be very grateful.  Er, just so I could offer an informed opinion, of course!